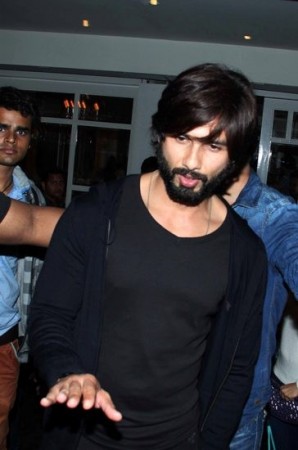 While other bollywood celebrities are busy taking home lump sum money from either their films or endorsements, Shahid Kapoor is one actor who is different from others.
Kapoor had reportedly let go his remuneration for his upcoming film, "Haider" along with the director, Vishal Bhardwaj, in order to make sure the film's budget is not over-stretched or the quality compromised.
"When he started planning the film, both Shahid and I agreed that it had to make money from day one," Mumbai Mirror quoted Bhardwaj as saying. "But, we also knew 'Haider' was a big film with a huge budget, an ensemble cast and lavish action pieces. Filming in Kashmir added to the costs."
"The only way we could succeed in our endeavour was not to burden the film with our remunerations, he added We kept the secret between us for a long time but it's finally out."
Kapoor stupendous performance in "Haider" and earlier in "Kaminey" and his passion for good cinema and commitment towards work has convinced the director that Kapoor is indeed the finest actor of his age. In fact, the "R...Rajkumar" star, who claims that "Haider" is special to him, had even shaved off his hair in order to sport a bald look for a single scene.
"Haider" is an adaptation of Shakespeare's tradegy play "Hamlet." The film will be third project in Bhardwaj's Shakespeare trilogy, after "Maqbool" (Macbeth) and "Omkara" (Othello). Apart from Kapoor, the film also stars Shraddha Kapoor, Tabu, Kay Kay Menon and Irrfan Khan.
"When I was making Maqbool, a contemporary adaptation of Macbeth, I didn't know that I would go on to make Omkara (an Indianised version of Othello). It was circumstances, which brought it about," said Bhardwaj.
Shakespeare's play, Hamlet, has some really long monologues and so does "Haider." Listening to Shahid deliver those wordy pieces on my headphones I was reminded of Naseer (Naseeruddin Shah) and Pankaj Kapur," said the perfectionist director.
Kapoor, with his bag full of movies, will be seen in Vikas Bahl's "Shaanda" after "Haider". He will also star in films by Raj Nidimoru, Krishna DK and Abhishek Chaubey.
The much awaited trailer of "Haider" was released on 8 July. The promo has received good responses from audiences who are eagerly waiting for the movie, which is set to release on 2 October this year.
Check out for the trailer of Bharadwaj's "Haider"