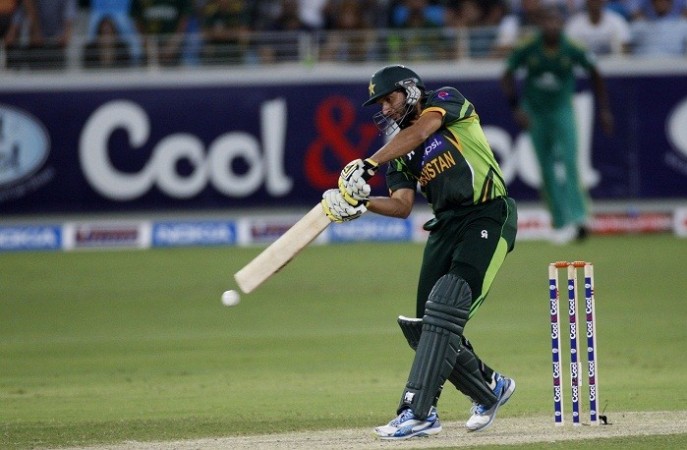 Shahid Afridi made a name for himself in international cricket with that world record century against Sri Lanka - a blistering knock which saw him reach the three-figure mark in just 37 balls.
Now, wizened and a veteran, Afridi, with his feet up and relaxing at home, would have wondered now and then, just when someone, with T20-inspired slam-bang hit-every-ball-for-a-six cricket in full flow, would break that record he set way back in 1996.
In comes Corey Anderson, big and wielding a willow of supreme power, to slam the West Indies bowlers all over the park at Queenstown Events Centre, and just like that, with a six to go from 95 to 101 in the 36th ball, the record that Afridi held for so long was no longer his.
Asked about the mammoth effort from Anderson on New Year's Day, Afridi, while admitting it was a tremendous achievement, said he was not even aware of the Kiwi player.
"I never heard his name and early morning my nephew told me about his feat and I sort of said the first news of 2014 is of my record being broken," Afridi was quoted as saying by AFP.
"But I must say it's a great achievement and Anderson deserves all the praise. It needs a super effort to score a hundred off 36 balls."
Afridi, who pops up three times in the top ten fastest ODI century list, was a little disappointed at losing a record he hoped to hold at least until his retirement.
"I sort of wanted this record to stand until I retire because it has been a big pride for Pakistan and for me and whenever my name comes the record is mentioned," he said.
"Now Anderson's name will come but I am sure with the advent of Twenty20 cricket this record will surely be bettered in the future."
Anderson's innings came a little out of the blue, and Afridi said he thought it would be someone like Chris Gayle, the left-handed six-hitting run machine, that would finally break the mark.
"I had never expected it to be broken by a new player," the 33-year-old Pakistan all-rounder added. "I thought the way Gayle batted and hit sixes or the way Warner bats, they were favourites to break my record.''
"I wish any Pakistan player would break this record soon, but for the time being everyone must appreciate Anderson."