28 September marks the 108th birth anniversary of the legendary revolutionary, Shaheed Bhagat Singh, who was sentenced to death in the Lahore conspiracy case on 23, March, 1931.
Born in a Punjabi Sikh family in 1907 at Banga, Singh had a spirit of patriotism and was attracted to anarchist and Marxist ideologies.
He also started following the Non-Cooperation Movement called by Mahatma Gandhi since a young age. However, after Gandhi withdrew the movement, Singh joined the Young Revolutionary Movement.
Singh murdered a British police officer John Saunders instead of Scott, the Superintendent of Police, to seek revenge for the death of Lala Lajpat Rai, who died due to the serious injuries he suffered during an all-parties procession in 1928 against the arrival of the Simon Commission.
Singh was also among the prominent revolutionaries who shaped the base of a grand national movement.
Meanwhile, Bollywood star Akshay Kumar, who will be next seen in the film "Singh Is Bliing" will pay homage to Singh on Sunday. The charitable event named 'Sadbhawna Diwas' on the birth anniversary of Singh will also see the presence of actors Lara Dutta, Amy Jackson and director Prabhudheva.
Check out some inspiring quotes by Bhagat Singh below:
Every tiny molecule of Ash is in motion with my heat. I am such a Lunatic that I am free even in Jail. - Jail Note Book of Bhagat Singh (1929)
Revolution did not necessarily involve sanguinary strife; it was not a cult of bomb and pistol
Bombs and pistols do not make a revolution. The sword of revolution is sharpened on the whetting-stone of ideas.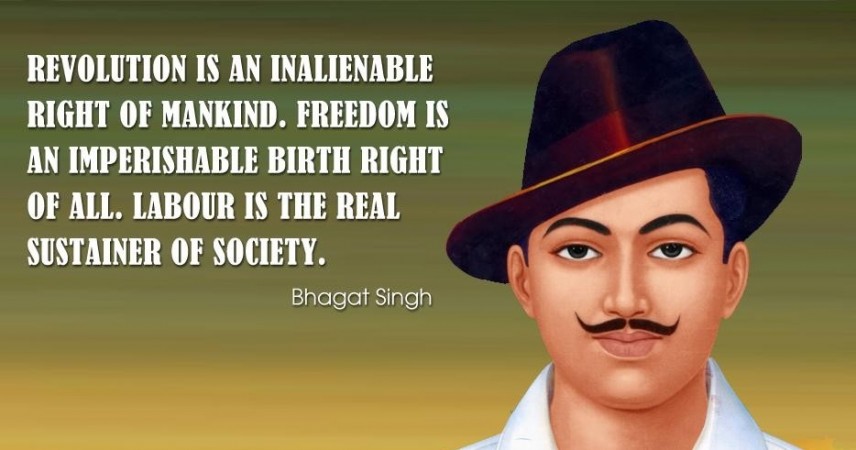 May the sun in his course visit no land more free, more happy, more lovely, than this our own country
It is easy to kill individuals but you cannot kill the ideas. Great empires crumble, while the ideas survived.
I emphasise that I am full of ambition and hope and of full charm of life. But I can renounce all at the time of need, and that is the real sacrifice.
Merciless criticism and independent thinking are the two necessary traits of revolutionary thinking.