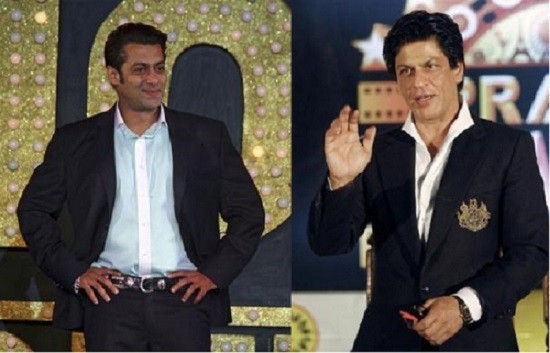 Bollywood superstars Shah Rukh Khan and Salman Khan have apparently decided to leave their bitter rivalry behind and move on in harmony.
The actors on Sunday ended their five-year long feud by sharing a hug at an Iftaar party hosted by Congress leader and Bandra MLA Baba Siddique, at a five-star hotel in Mumbai.
According to reports, Shah Rukh was seated next to Salman Khan's father Salim Khan and several other politicians including the Maharashtra CM Prithviraj Chavan. Salman, who was seated at another table with his brother Sohail Khan, got up to meet the CM and in the process Baba Siddique took the initiative to introduce Salman to others. Baba Siddique informed SRK that Salman Khan present at the event. Much to everyone's surprise, Shah Rukh turned towards Salman and hugged him. People around them broke into huge applause and the superstar duo with their host posed for the cameras.
After their patch-up Shah Rukh took to micro-blogging site Twitter and said, "Finally u realize turning the page is the best feeling in the world, becos there is so much more to the book than the page u were stuck on, (sic)."
At the end of the party an elated Baba Siddique said, "Salman and Shah Rukh are my childhood friends. They themselves met each other," NDTV reported.
Shah Rukh and Salman turned foes after a spat at Katrina Kaif's birthday bash in 2008. Since then, the two have avoided each other at several events.
Dismissing speculations that the truce would bring the two actors on the big screen, Industry watchers believe that this won't be the case.
"The patch-up has nothing to do with their coming together in a film. The fact is both are too big a star to work together in a film," said trade analyst Komal Nahta, reported Daily Mail.
Shah Rukh has recently wrapped up the shooting of his film "Chennai Express" and is involved in post-production work, while Salman is gearing up for reality TV show "Bigg Boss season 7" where he will play host for the fourth straight year in a row.