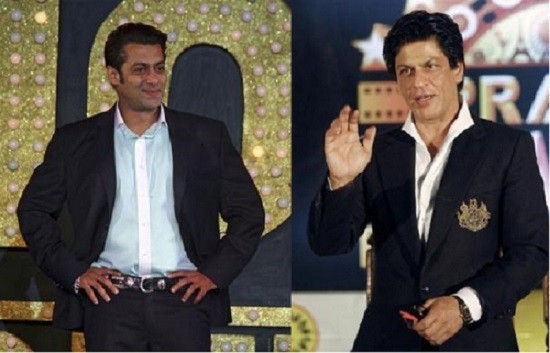 The end of Shah Rukh Khan and Salman's rivalry created a lot of buzz recently. But the "Dabangg" actor's father Salim Khan said that he does not see an everlasting friendship between the two superstars.
On Sunday, Shah Rukh and Salman shared a hug at an Iftaar party hosted by Congress leader and Bandra MLA Baba Siddique, at a five-star hotel in Mumbai. Salman's father Salim was also present at the event where the two actors surprised the gathering by greeting each other warmly.
Since then, many have speculated that Salman and Shah Rukh will kick off a fresh start to their friendship.
However, Salim opined that there is not much chance of a reconciliation between the actors. "I am happy that my son has taken the initiative. It was a sensible thing to do and a much-needed gesture and Shah Rukh reciprocated," he said, according to DNA.
"Please don't give so much importance to it. There are disagreements between miyaan-biwi, neighbours, society and so many other individuals. They (Salman and Shah Rukh) are actors and rivals. Inke problems hote hain aur solve bhi ho jaate hain. I have always maintained that there can never be any love between any two big stars, only courtesy. It is not possible for big stars to love each other. Even stars like Raj Kapoor, Dev Anand and Dilip Kumar were just courteous to each other. Salman and Shah Rukh must have decided to be mature and courteous and that is something that must be maintained," the yesteryear actor added.
Salim went on to say that Salman and Shah Rukh's reunion was given unnecessary importance and their hug would not help the country in any way. "They both are self-respecting people. They must have decided to put aside their ego instead of thinking about what hurt them. Maybe they felt foolish behaving in a childish manner and instead decided to behave like mature adults on that day. Media should be talking on much more important issues than this," he said.
Salim said that despite the bitter relationship between Shah Rukh and Salman, he would always greet the "Chennai Express" star with respect. "We are all civilised people and Shah Rukh has always treated me with civility and respect whenever we have met. I am his senior and he has given me that respect. That's our culture."