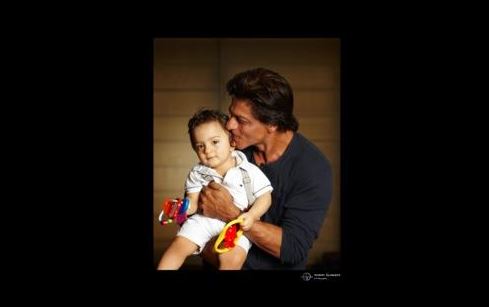 Shah Rukh Khan's adorable toddler AbRam is not only a fuss-free poser but also a cute talker.
"Now, AbRam is the centre of attraction in the house. Everyone's attention is always diverted towards him and what he's upto. now he's learnt to talk a bit. He calls me 'Papa' and also at times calls me by my name. He can't pronounce Shah Rukh so he adorably calls me Shaguu," DNA quoted the "Happy New Year" actor from a recently concluded event.
SRK might be open to answering questions about his youngest kid now, but at the time the bundle of joy was born, he took offense in the speculations surrounding his third child's birth.
Born through surrogacy at reportedly 34 weeks of pregnancy on 27 May, 2013, AbRam sparked controversies without having an inkling of it. However, the star couple was bombarded with allegations of carrying out a sex determination test, after which Shah Rukh clarified how the reports were baseless. Also, their decision to bring in a new life via surrogacy without adopting one was met with heavy criticism.
The doting dad didn't spare the media for the reports published about his little one saying that they were all baseless adding that such comments could've have been avoided considering how unwell the child was at the time of birth.
"It is one of the only things that has made me uncomfortable in my career is you take on a child who is sick when he was born and make it an issue... I find it very disgraceful. I am a movie star, disgrace me but not my kids," SRK told PTI.
In other news, Shah Rukh will be next seen in Maneesh Sharma's "Fan" alongside Pakistani actress Mahira Khan. He will also be doing a film with Rohit Shetty, the details of which are yet to be revealed.