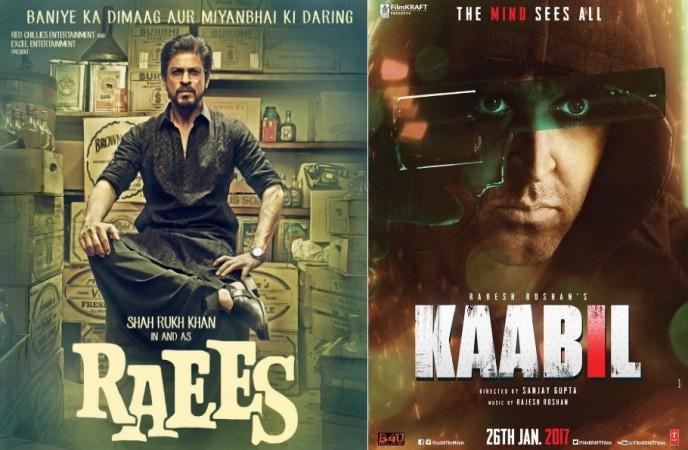 Shah Rukh Khan and Hrithik Roshan are set to clash at the box office with their upcoming movies Raees and Kaabil, respectively. Trailers of both the movies looked impressive but fans liked the Raees trailer more than that of Kaabil.
International Business Times, India, conducted a poll, asking fans which trailer they liked the most between Raees and Kaabil. Although it was a close contest, Shah Rukh's Raees trailer won the poll.
Approximately 59 percent people voted for Raees trailer while about 41 percent of the voters chose the Kaabil trailer. Hrithik's Kaabil and SRK-starrer Raees are two of the most awaited flicks of 2017. Both the actors are set to portray characters in the films that they have never done before.
Hrithik will be seen as a blind man, who sets out to avenge his wife's murder. On the other side, Shah Rukh will play a wicked bootlegger, based on a real-life character of Abdul Latif, who had ruled the illegal liquor business in Gujarat in the 1990s.
Hrithik will be seen romancing Yami Gautam in Kaabil and Shah Rukh will be paired with Mahira Khan in his film. Both the pairings are also fresh. The makers of Kaabil had earlier announced that the movie will be released on January 25 instead of the previously scheduled date of January 26.
However, the makers of Raees had raised some eyebrows after they also announced that the film will hit the screens on the same date of Kaabil. This will definitely be one of the biggest box office clashes of all time.
Kaabil has been directed by Sanjay Gupta, while Rahul Dholakia is the director of Raees.