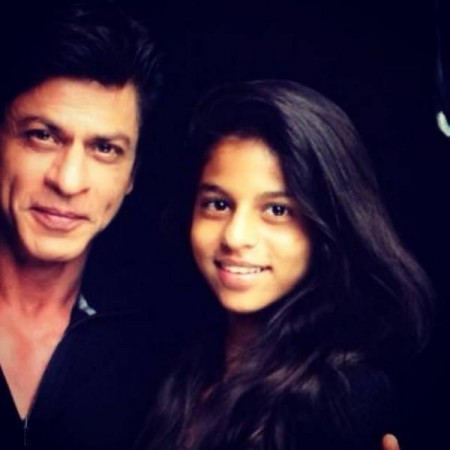 "Baadshah" Shah Rukh Khan's daughter Suhana Khan, born on 22 May, 2000, is celebrating her 15th birthday on Friday.
Many fans of SRK and the star kid have wished her on social networking sites.
SRK, the doting father, has always showered praises and love on each of his kids, and Suhana has always remained "Daddy's little girl".
Even though SRK's youngest son AbRam is the favourite of paparazzi these days for his cute and adorable looks, Suhana and Aryan Khan, who attend events and IPL matches with the family, also grabbed the attention of the media.
Born to SRK and Gauri Khan, Suhana is a student of Dhirubhai Ambani International School, and is interested in sports and dancing.
Check out some rare and unseen photos of the star kid below:
@Suhana_Khan12 pic.twitter.com/fmYc26dIQq

— abir aboura (@abiraboura92) May 21, 2015
Wondeful to see @iamsrk at match with kids-his family shares love of game! @KKRiders @KKRidersFanClub pic.twitter.com/4hDIyuVyyN — SRKUSAFC_CFC (@SRKUSAFC_CFC) April 8, 2015
Happy birthday to our sweet suhana wish u happiness love u pic.twitter.com/4zYpt3hGl8

— basmala ahmed (@bobos_ahmedkg) May 21, 2015
@Suhana_Khan12 welcome on instagram dear finally you are there pic.twitter.com/uJjXyS87qt — .‏SRK FAN SALMA (@SRKfanSalma) May 11, 2015
Celebrating ##Suhana14K & #Aryan14K @iamsrk @iamaryankhan555 @iamPrinceGuddu pic.twitter.com/TbEgw4G462

— Birthday Girl Suhana (@Suhana_Khan12) May 7, 2015
Selfie time!! Follow me on Instagram->> https://t.co/TWJD2uQ4PD pic.twitter.com/iafSYrR6I0 — Birthday Girl Suhana (@Suhana_Khan12) April 23, 2015
Selfie time!! This weekend I upload lots of pics and now #SaveTheInternet pic.twitter.com/y6ItK39D5u

— Birthday Girl Suhana (@Suhana_Khan12) April 12, 2015
Ohhhh I forgot telling u thank u!! Bcz now #Suhana13K pic.twitter.com/V96JNbbo6r — Birthday Girl Suhana (@Suhana_Khan12) April 10, 2015
Dinner time!! Who want to join pic.twitter.com/1H9LmyVvq8

— Birthday Girl Suhana (@Suhana_Khan12) April 10, 2015
After match Party!! pic.twitter.com/UrcTOaov6M — Birthday Girl Suhana (@Suhana_Khan12) April 9, 2015