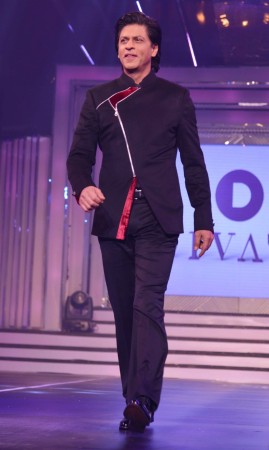 Shah Rukh Khan's third child, AbRam, has been the talk of the town ever since his birth in May. SRK's fans are waiting to catch a glimpse of the newest member of his family, who has been kept away from public appearances.
Despite Shah Rukh's attempts to shield his child from the spotlight, a recent photo of a nanny feeding milk to a baby at the balcony of his bungalow "Mannat" in Bandra went viral on social networking sites.
On Wednesday during Eid, Shah Rukh came out of his home to greet the large crowd stranding outside his residence. The actor, in a black T-shirt, did adaab to his fans and wished them.
After he went inside and the crowd began to disperse, three women were spotted at the balcony. Two of them were standing in direct view of the paparazzi, while the third woman who kept her distance was seen holding a baby in her arms and bottle feeding milk the child. Shutterbugs managed to take the picture of the baby in the nanny's arm before they went inside.
Check out the photos of nanny standing with the baby here.
AbRam is the third child of superstar actor Shah Rukh and wife Gauri. The four-month-old was born through surrogacy.
After the arrival of his little bundle of joy, SRK feels that every single day calls for a celebration.
"We are very happy that he is part of our lives. With him around, everyday is a festival for us as he is in the house," the actor told Press Trust of India.