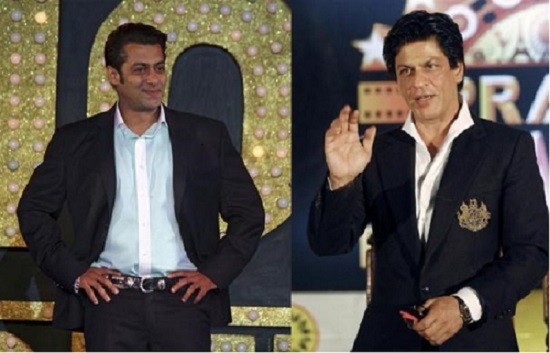 With close to 1.5 million hits in just two days, Shah Rukh Khan's "Happy New Year" has been receiving quite a spectacular response.
From changing names on Twitter to organising a grand trailer launch party, Shah Rukh and his team has been successful in generating the desired buzz. Calling "Happy New Year" a "quintessential Bollywood film", Khan says he wants it to be the biggest film of the year.
Wonder what arch-rival Salman Khan would have to say about it. Though, his last film "Kick" has gone on to create fresh records, the content is questionable. He might have set the cash registers ringing, but the script lacks substance.
Shah Rukh's movies too doesn't dwell on serious matters and are mostly feel-good entertainers, but there's something that sets his projects apart from Salman's. And that is, the role of the heroine, IBTimes UK reported.
Salman's films – "Ready", "Bodyguard", "Kick" – have survived on the charisma of the superstar. Whereas, Shah Rukh's films give way for the female lead. Last year, the actor had vowed to put his actress' name before his. And in "Chennai Express", Deepika Padukone's name was flashed before the superstar's in the credit titles.
Salman's actresses are never given enough opportunity to showcase their talent, instead they are pulled in to increase the glamour quotient of the film. While King Khan's leading ladies get equal amount of screen space.
Shah Rukh, who was embroiled in a controversy post his dance with a lady cop in uniform, said to Times of India, "This distinction between men and women is rubbish and silly. It should not be even talked about." Although, the topic at hand is separate, but this goes on to prove that he is averse to discrimination.
At the recent "Happy New Year" trailer launch when Shah Rukh was asked if he would continue to put his leading lady's name before his, he said "Yes, Surely". Known for his chivalry, Shah Rukh truly knows how to respect and give a woman her due credit. Unlike other mega stars, he rarely eats into a script or hogs screen space.