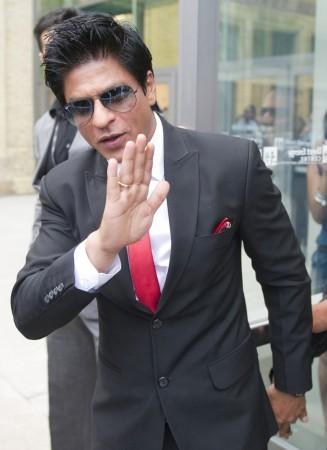 The latest buzz in tinsel town is that Bollywood actor Shah Rukh Khan has widened the existing rift between him and action star Akshay Kumar.
Shah Rukh has reportedly given a fresh start to his rivalry with Akshay, ahead of the release of the films "Chennai Express" and "Once Upon A Time In Mumbai 2".
During the maiden match of the sixth season of Indian Premier League (IPL) which was held between Delhi Daredevils and Shah Rukh-owned Kolkata Knight Riders in Kolkata's Eden Garden, Akshay along with co-stars Sonakshi Sinha and Imran Khan cheered the teams and promoted their movie "Once Upon A Time In Mumbai 2" (OUATIM 2).
However, the promotional strategy of the stars and production team of "OUATIM 2" was ruined as the broadcasters did not cover Akshay, Sonakshi and Imran who were seated at the venue wearing T-shirts with "Once Upon A Time In IPL" printed on them.
Rumours were rife that Shah Rukh demanded television channels to focus less on the "OUATIM 2" cast who were sitting close to him.
A source from Akshay's film's unit said, "Initially Akshay and his gang were sitting away from Shah Rukh. However, soon they moved closer to the star in order to interact with the audience. However, immediately SRK retired from the scene, perhaps to avoid greeting the others," Mid-Day reported.
"There were whispers that courtesy SRK's special request, Akshay and his co-stars barely had enough screen time on television," the source added.
Tanuj Garg, CEO of the production house behind "OUATIM 2" said, "Our mission was accomplished as we were featured on all the channels and the Kolkata media supported us. However, we did receive messages from our friends that we were not spotted enough on TV. But it is not in our hands."
Defending Shah Rukh's move a source close to actor said, "People are not allowed to promote their films at IPL in any manner. Why blame Shah Rukh?"
According to the IPL code of conduct, no stars can promote their venture during the limited over matches without signing an official agreement.
It was reported that Akshay was not happy about the idea of wearing the T-shirt with the promotional tagline but was later convinced by the promotional team.
On the other hand, Shah Rukh succeeded in promoting his upcoming movie "Chennai Express". He roped in his co-star Deepika Padukone for the task and the duo was spotted cheering for the Kolkata Knight Riders team. They even walked around the grounds waving hands at the audience after the match.