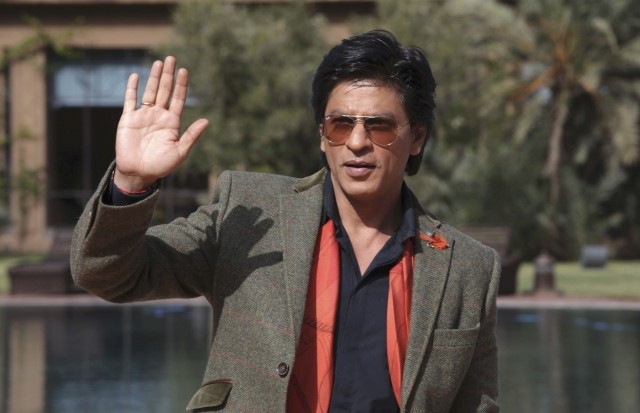 Breaking his silence on the war of words between Indian and Pakistani leaders over his article for a magazine, actor Shah Rukh Khan slammed all those offering "unsolicited advice", saying that he is proud to be an Indian and is "extremely safe and happy".
Reacting to Shah Rukh's article titled "Being a Khan" in Outlook Turning Point, Pakistan Interior Minister Rehman Malik demanded security provisions to be made for the actor, to which India's Home Secretary RK Singh hit back saying that "Pakistan should instead worry about protecting its own citizens."
The 47-year-old actor on Tuesday issued a media statement expressing his take on the controversy around his article.
"As I said being an Indian and my parents' child is an unconditional accepted truth of my life and I am very proud of both," he said, adding "We have an amazing democratic, free and secular way of life. In the environs that we live here in my country India, we have no safety issues regarding life or material. As a matter of fact it is irksome for me to clarify this non-existent issue. With respect I would like to say to anyone who is interpreting my views and offering advice regarding them, please read what I have written first."
"I do not even understand the basis of this controversy," he went on to say.
In a write-up describing his experiences as a Muslim post 9/11, Shah Rukh Khan said that he was victimised at times for being a Muslim.
"I sometimes become the inadvertent object of political leaders who choose to make me a symbol of all that they think is wrong and unpatriotic about Muslims in India. There have been occasions when I have been accused of bearing allegiance to our neighbouring nation than my own country -- this even though I am an Indian whose father fought for the freedom of India. Rallies have been held where leaders have exhorted me to leave my home and return to what they refer to as my original homeland," he wrote.
"I became so sick of being mistaken for some crazed terrorist who coincidentally carries the same last name of mine that I made a film, subtly titled My Name is Khan (and I am not a terrorist) to prove a point. Ironically, I was interrogated at the airport for hours about my last name when I was going to present the film in America for the first time," he added.
Jamaat-ud-Dawa founder Hafiz Saeed reacted to the article by inviting the actor to move to Pakistan if he doesn't feel safe in India.
Pakistan Interior Minister Rehman Malik added more fuel to the fire by stating that he would request India to provide security to the actor.
"He (Shahrukh) is born Indian and he would like to remain Indian, but I will request the government of India to please provide him security and I would like to request all Indian brothers and sisters who are all talking against Shah Rukh that they should know he is a movie star, he is loved as a star by the people of Pakistan and he is loved by the people of India, then why to create some kind of hate, let's bring love," Malik told reporters at a reception organised by High Commissioner Sharat Sabharwal to mark India's Republic Day.
India reacted strongly to Malik's statement with Home Secretary RK Singh stating that Pakistan should worry about protecting its own citizens.
"We are capable of looking after our own citizen, let him worry about the security of his country's citizen," said Singh.
Shiv Sena spokesperson Sanjay Raut also said that Pakistan shouldn't interfere in India's affairs and decide whether the actor should be provided security or not.
Also read: India Hits Back at Pakistan