King Khan Shah Rukh received an award at the World Economic Forum (WEF) in Davos on January 22 for raising awareness about human rights issues and his work for acid attacks victims.
The actor said: "I am genuinely and deeply grateful for this honour. It is indeed a privilege to be in the company of two phenomenal and extraordinary human beings and talent, Cate Blanchett and Sir Elton John."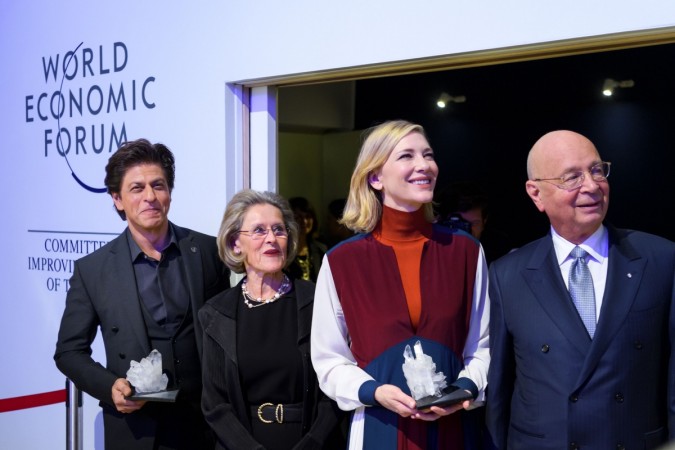 He was honoured for his work at the non-profit Meer Foundation, which provides support to female victims of acid attacks and major burns through medical treatment, legal aid, vocational training, rehabilitation and livelihood support.
Shah Rukh Khan wrote on Twitter: "Switzerland main aake yeh na kiya toh kya kiya...?! Loving being at the Davos, now to get ready for the Crystal Award Ceremony. #DavosDiaries"
His powerful speech is going viral and it is worth a watch. Some of the quotes are here:
"I am grateful to these brave women and children (of Meer Foundation) who I work with for all that they have done for me, to the World Economic Forum, and all of you present here today for recognising the heroism by conferring this award, and this reward upon me."
"I want to thank my sister, my wife and my little daughter for bringing me up well and teaching me the value of requesting, sometimes imploring, and sometimes even begging a yes from a woman, instead of forcing it upon her.
"We, the powerful, need to get out of the way, to pick the barriers apart, the ones that give us names and races and colours and hierarchies," he said.
"That is what I have learned from my beautifully scarred women."
English singer Sir Elton John and Australian actress Cate Blanchett were also honoured at the Summit.
SRK's close friend, filmmaker Karan Johar, was also in attendance when King Khan received the award.