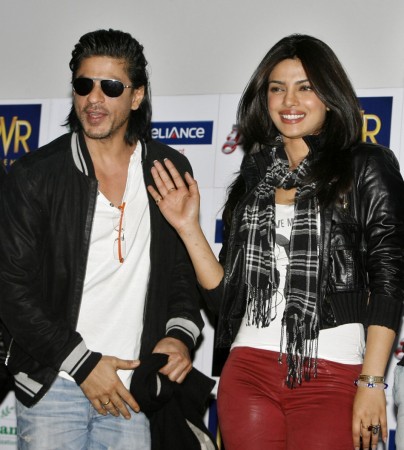 With 18 million followers on Twitter, it was only fair that Shah Rukh Khan emerged as one of the most "engaging" stars on the micro-blogging site. But interestingly it's not just about the number, it's more of how he kept people hooked to his posts and shares.
The Times of India, in collaboration with Twitter, has put out a chart that features stars, who have kept their admirers interested and interacted with them. Number of retweets, likes and replies are some of the factors that are taken into consideration when compiling such a list.
"Quantico" girl Priyanka Chopra scores highest, Alia Bhatt, Sonakshi Sinha, Shraddha Kapoor and Sonam Kapoor fill up the next four slots. Meanwhile, Salman Khan, Amitabh Bachchan, Anupam Kher and Varun Dhawan are top engaging stars (male).
SRK interacts with his fans, shares their posts and often holds rapid Q & A sessions, which justifies the tag he has been given by TOI and Twitter. Priyanka too is someone, who, despite nightmarish schedules, manages to reach out to her admirers and makes it a point to reply to some of their queries.
However, Shah Rukh has mellowed a tad after his "intolerance" remark brought home trouble. He found himself being slammed on social media and all other platforms, which is why he has strictly kept himself from sharing anything that doesn't have to do with his work.
"I don't come (on Twitter) that often. I don't like people abusing and all. I don't need to open my telephone and see the negativity. So, I don't like it... there are some idiots who talk really idiotic stuff and say bad things, so I don't like to read (it) and unfortunately I end up reading it whether I like it or not," he told IANS earlier this month.
Check out the top ten list, below:
| | | | |
| --- | --- | --- | --- |
| Name | Rank | Name | Rank |
| Shah Rukh Khan | 1 | Priyanka Chopra | 1 |
| Salman Khan | 2 | Alia Bhatt | 2 |
| Amitabh Bachchan | 3 | Sonakshi Sinha | 3 |
| Anupam Kher | 4 | Shraddha Kapoor | 4 |
| Varun Dhawan | 5 | Sonam Kapoor | 5 |
| Akshay Kumar | 6 | Parineeti Chopra | 6 |
| Hrithik Roshan | 7 | Preity Zinta | 7 |
| Sidharth Malhotra | 8 | Anushka Sharma | 8 |
| Shahid Kapoor | 9 | Jacqueline Fernandez | 9 |
| Arjun Kapoor | 10 | Deepika Padukone | 10 |