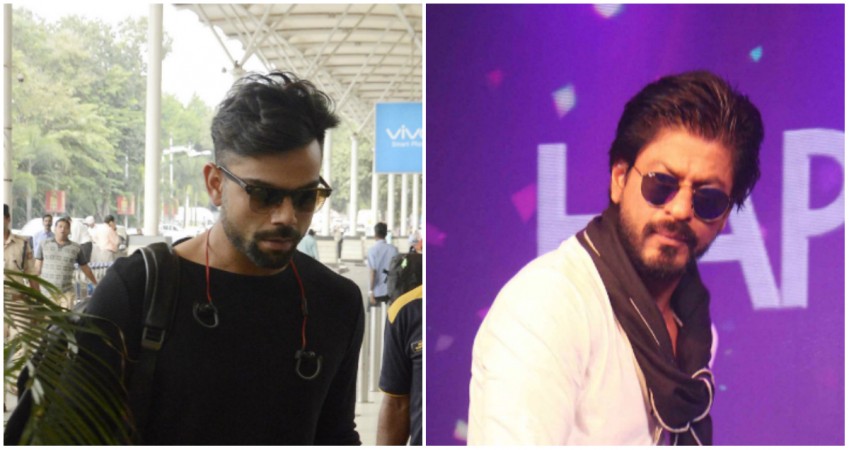 Like millions of others, Shah Rukh Khan couldn't stop praising the outrageously talented Virat Kohli. At the pre-match discussions of the India Vs Bangladesh T20 World Cup Match Wednesday (which India won by a thin margin), the superstar said Virat was a "well-mannered kid."
"Whenever I've met him, even after the U-19 World Cup, he has come across as a very well mannered person in his personal life. And now on the field also he contains his aggression and technically is fantastic as well," the Indian Express quoted him as saying.
Shah Rukh has been very open about his fondness for the sports star and has also described him as a "gentleman." Last year, when asked about his thoughts about Virat during one of his Twitter interactions with fans, he replied: "He is a gentleman...very sweet."
As he went behind the mic with pacers Shoaib Akhtar and Zaheer Khan for Wednesday's match, he recalled fond memories of India's win against Pakistan in the 2007 World Twenty20 in Johannesburg. He had taken his son, Aryan Khan, and a few other friends for the match and was extremely thrilled for having witnessed a fantastic game of cricket.
SRK also looked back to his formative years, when he was hoping to build a career in the sport and was even called for trials for the Lala Amarnath Cup. At the tryout, Shah Rukh recollected, he chose to keep wickets saying he was a terrible batsman. He also joked that he was so "tiny" he would wear his thigh-guards on his chest.
"So if I would shift my foot back to take a catch, he (the coach) would hit me. And I was suggested to shift to the side after taking a catch but because they came so quickly, I would only go back," he added.