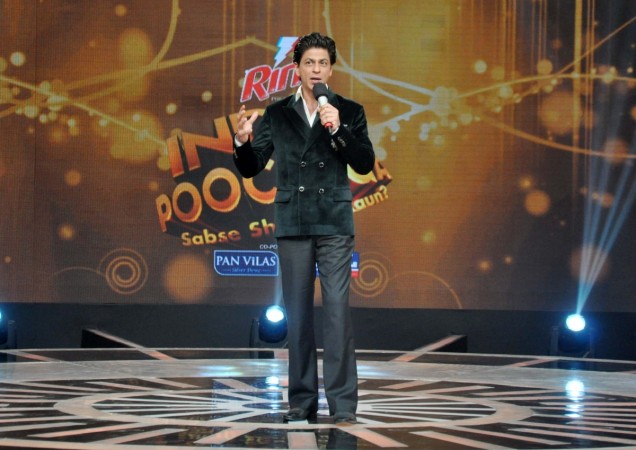 There was a time when Shah Rukh Khan used to be one of the most expensive stars in the country, but things have changed now.
In one of the recently-concluded episodes of "India Poochega – Sabse Shaana Kaun?", cricketers Yuvraj Singh, Harbhajan Singh, Robin Uthappa, and Manish Pandey 'auctioned' SRK. It started with a whopping र 150 crore, but ended at र 75,000. The 'auction' was unique, in the sense it started with the highest amount and kept on decreasing after each bid. Done in jest, the sportsmen apologised later on the "Happy New Year" star's insistence.
It was a fun segment during which Shah Rukh urged his guests to 'auction' him like he gets to do each year as an IPL team owner. However, when the bidding went south with the cricketers willing to pay a meagre five-figure sum for the second richest actor in the world, SRK stopped the process before it could get more embarrassing for him. The host, who is known for taking jokes well, was a huge sport agreeing to b part of the gag.
The superstar, who is wrapping up Maneesh Sharma's "Fan", was visibly thrilled to be part of the new game show. Apart from the fact that he was returning to the small screen after a 4-year-long hiatus, it was the interaction with commoners that made him more happy.
"Shooting sabse shaana kaun....meeting so many wonderful ppl with common issues but special grit & determination. So special to be ordinary," he tweeted.
"I understand the sisters, the brothers, the cousins, the aunties and the issues people have. I won't lie but I don't know the price of petrol or vegetables. But that does not make me uncommon, that makes me really busy. I don't understand that, but there was a time when I did all that," DNA quoted SRK as saying.