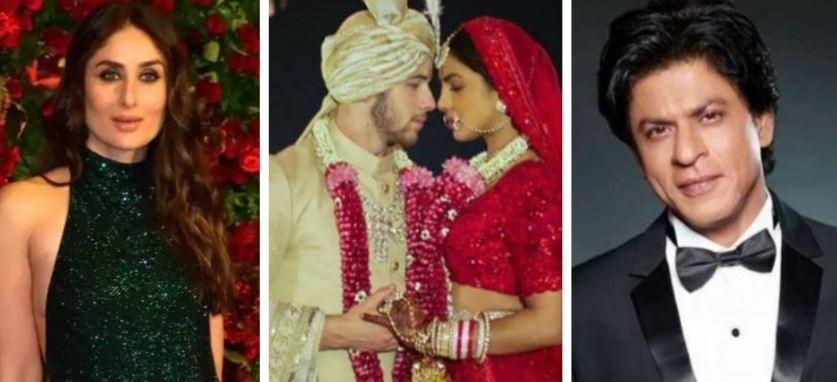 Priyanka Chopra and Nick Jonas are finally man and wife. The couple, who opted for a destination wedding at Umaid Bhavan Palace in Jodhpur, had planned a gala affair to celebrate their wedding festivities.
Chopra, 36 and Jonas, 26, tied the knot in a Christian wedding ceremony at the palace. A traditional Indian wedding ceremony had been organised for the couple a day after their Christian wedding.
We were left a bit shocked by the absence of well-known Bollywood celebrities from the wedding festivities. It is said that Priyanka Chopra had booked rooms for Alia Bhatt, Ranbir Kapoor, Salman Khan and even Shah Rukh Khan at the Umaid Bhavan Palace but none of them turned up.
As per a report in Dainik Bhaskar, Priyanka is upset and hurt with Shah Rukh Khan not turning up at her wedding. The fact that he attended Deepika Padukone and Ranveer Singh's wedding with full fervour, hasn't gone down too well with the actress, who is currently busy enjoying her newly married life.
However, with everything that has happened between Shah Rukh Khan and Priyanka Chopra, it seems highly unlikely that he would be attending her wedding reception. On the other hand, Kareena Kapoor, who has always been seen taking digs at Priyanka Chopra and vice versa, also might give the wedding reception a miss. It would be interesting to see whether Shahid Kapoor, who once was in a brief affair with PeeCee would attend the gala wedding reception or not.
Deepika Padukone, who is busy enjoying her own wedding festivities and honeymoon period, might also give a miss to the event. Priyanka Chopra too had failed to show up at Deepika's wedding reception as the former had her own wedding the same day.