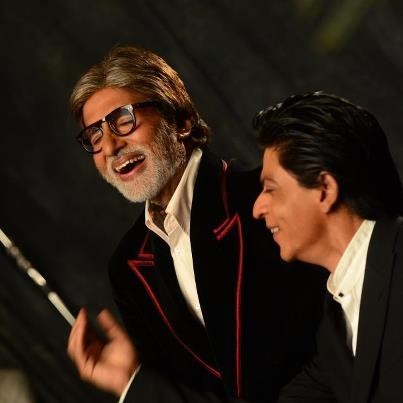 Bollywood king Shah Rukh Khan has been declared 'India's Most Attractive Personality', beating Salman Khan, Aamir Khan and even megastar Amitabh Bachchan to the title.
Trust Research Advisory (TRA), a Comniscient Group company, conducted a survey based on "36 Trait Matrix" in 16 cities to determine the "brand attractiveness".
In the survey, Shah Rukh topped the list followed by Amitabh and cricketer Mahendra Singh Dhoni. "Dhoom 3" actor Aamir is ranked fourth. Surprisingly, Salman is not featured in the top five list of attractive personalities.
Actor Mithun Chakraborty has emerged as the fifth most attractive personality, followed by actress Katrina Kaif in the sixth spot, Salman at seventh and master blaster Sachin Tendulkar rounding of the top eight.
Around 25 people from different fields including film, sports, politics, business and others were included in the survey report by TRA.
"While we often see attractiveness only in terms of physical beauty, it is much more. It is a function of four founding appeals -- rational, emotional, aspirational and communication. When the quotient is high on all four appeals, the overall attractiveness quotient becomes high," said N Chandramouli, TRA CEO, said, according to Press Trust of India.
Other personalities who made it in the list are Rabindranath Tagore, Swami Vivekananda, Virat Kohli, Saina Nehwal, Kapil Dev, Akshay Kumar, Sania Mirza, Madhuri Dixit, Sourav Ganguly, Sushmita Sen, Chris Gayle, Aishwarya Rai Bachchan, Kareena Kapoor, Anil Ambani, Karishma Kapoor, Lata Mangeshkar, Sunny Deol, Priyanka Chopra, Rekha, Hrithik Roshan, Ranbir Kapoor, Steve Jobs, Yuvraj Singh, Anil Kapoor and Medha Patkar among others.
"TRA is an actionable insights and brand intelligence company which is dedicated to understand and analyse stakeholder behaviour through two "globally acclaimed", proprietary matrices of "Brand Trust" and "Brand Attractiveness". TRA is also the publisher of what it calls 'The Brand Trust Report'," according to TRA's official website.