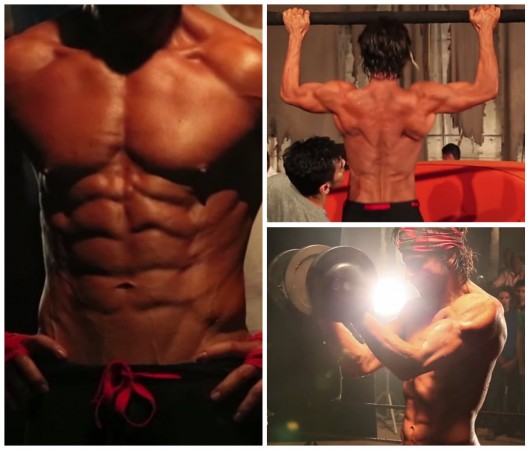 Shah Rukh Khan, who has flaunted his 8-pack abs in his upcoming film "Happy New Year", has taken up Hrithik Roshan's #bangbangdare.
Since the charming actor has been away promoting "HNY" across the United States of America, he posted a behind-the-scene clip of himself pumping the iron for the introductory scene in the Farah Khan directorial. Supported by his trainer Prashant Sawant, the 48-year-old seems to have given it his all.
Attaching a link, Shah Rukh wrote, "@ihrithik #bangbangdare my fav ab workout is to do all exercises. A Dirty gym/ Prashant 2 help & Farah to scream."
Watch the video here:
Roshan, who has been throwing fitness challenges to his B-Town friends, called the superstar a winner and an inspiration. He tweeted, "Didnt make d deadline but "haar ke Jeetne wale ko hi baazigar kehte hain!' @iamsrk hahaha loved d end!! It's going 2 b a happy nwyear 4 sure."
Explaining his rugged look, Farah revealed in an interview that Shah Rukh's Charlie is an underground fighter and hence the chiseled contour.
"We have introduced him like a fighter in a kick-boxing kind of situation. His family has been implicated by Jackie Shroff, so he is wanting this revenge for which he collects his team, most of which is known to him from before, and he is the mastermind of the full heist," she told The Times of India.
The last time Shah Rukh went shirtless and flaunted his abs was in "Om Shanti Om" and the actor has always maintained that he would do it only for his best friend Farah.
Slated to release on 23 October, the dance heist film features Deepika Padukone, Abhishek Bachchan, Sonu Sood, Boman Irani and Vivaan Shah in pivotal roles. Peppered with larger-than-life moments and gravity-defying stunts, this masala film is set to send the cash registers ringing.