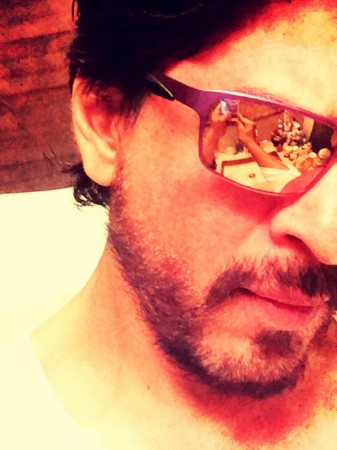 Shah Rukh Khan has a crazy fan following across the globe, and his ever-expanding followers' list on Twitter is just a teeny weeny example of that.
The superstar went shirtless and put on a pair of shades to celebrate 13 million followers on the micro-blogging site. He posted a video in which he thanked those who follow him on social media.
The 30-second clip also has a message for his admirers. He urges men not to abuse women and in anyway hurt them.
The actor is known for keeping his promises. When he first hit the 10-million mark, SRK shared a video tweet, promising he would do the same every time he reaches a milestone.
Fans are loving his shirtless avatar and showering him with love on Twitter. Here are some tweets:
WONT FORGET UR TEARS: @iamsrk shirtless. Thank you soooooo much for video tweet sir . Love u love u love u love u love u (sic).
Ajaye: @iamsrk Omg thank u so much Shahrukh Khan u just made my day week and month.
K: @iamsrk now this is a real treat.. sexy man with the beard ..voila (sic).
ItratShahRukh: @iamsrk OMG I JUST DIED!! YOU ARE SO SEXY AND YOUR VOICE (sic).
Sanaa♥SRK: @iamsrk Thank Thank Thank U King For This Hot Vid Tweet.. Seeing U and Wanting To Hug and Kiss U *O My hEART* !! i Love Youu SRK 13 Million.
Athar Rukh Khan S.: @iamsrk you never fail to amaze me even more ! You're hotter , sexier day by day !!!!!! Thank you a TOOOOOOOOOOOOOON.
In other news, SRK has wrapped up Maneesh Sharma's "Fan" and is now working with Rahul Dholakia's "Raees" team, after which he'll take up Rohit Shetty's "Dilwale".
Watch the video below: