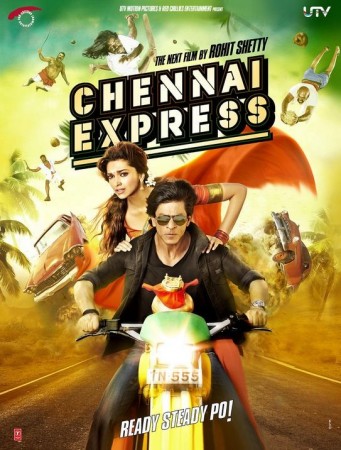 Bollywood superstar Shah Rukh Khan seems to have taken inspiration from his arch rivals Salman Khan and Ajay Devgn for performing some raw action stunts in his upcoming film "Chennai Express".
While Salman gave high voltage action stunts in several films like "Wanted", "Bodyguard", "Dabangg", "Ek Tha Tiger" and "Dabangg 2", Ajay showed off similar intensity stunts in "Singam" and "Himmatwala" amongst others.
Shah Rukh, who was seen performing some hard-core action sequences in films like "Baazigar" , "Darr", "Karan Arjun" and "Koyla", had resorted to doing romantic flicks for a while. Lately, the actor decided to come back to his action avatar through Rohit Shetty's "Chennai Express".
Considering the images of "Chennai Express", which also stars Deepika Padukone, it seems like Shah Rukh has made up his mind to give tough completion to his rivals. He is seen chasing an orange jeep and tries to stop it by jumping mid-air. In additon, he is seen wearing clothes drenched in blood with bruises all over his face.
According to reports, the actor performed the intense action scenes in "Chennai Express" for real. During the filming of one such stunt scene, the actor badly hurt his shoulder and had to undergo a surgery on 28 May.
Currently, Shah Rukh is recuperating from his surgery and has been advised rest for six weeks. As per reports, he will resume work only after three months.
Meanwhile, Shah Rukh has mentioned about being in pain after the surgery, via a funny tweet on 3 May.
"They say you learn from Pain. By that maxim & the nite that went by, i should be a Genius. Triple Nine Society here I come...!!" Shah Rukh tweeted.
His surgery has also delayed the filming of his next venture in Farah Khan's "Happy New Year".