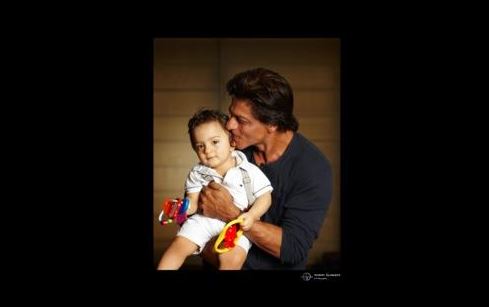 Man-of-the-moment Shah Rukh Khan is thrilled with the success of his latest release "Happy New Year". But the superstar is more interested in his youngest son AbRam Khan's stardom.
King Khan's bundle of joy, who featured in the end credits song of "HNY", is being loved and adored by the fans. Calling him "cute" and "adorable", SRK's lovers can't seem to get enough of the toddler. Not just that, Deepika Padukone has reportedly expressed her desire to work with the little Khan sometime in future.
"While making the film, I used to hardly get any time to come home...(thanks to) late night shootings and all. One day, he had come over to the studio. I made him sit on the stage and I started dancing with him. Farah asked me to let her allow to shoot my son and I said: 'Shoot it'. Now, when I see it, it's nice," IANS quoted the actor.
The "HNY" actor also added that as the film has done such a good business, both in the country and overseas, it feels great to show off his little one's superstardom. "It's nice to know that my son's film has done such a good business. I can show off that my son is a big star," he quipped.
AbRam was born through surrogacy, reportedly at 34 weeks of pregnancy on 27 May 2013. For a considerable amount of time, the star couple met with unfounded allegations of carrying out a sex determination test. They were also heavily criticised for not adopting a baby.
However, the doting dad opened up on his youngest son a few months ago and lashed out at the media for having published stories that were baseless and written in bad taste.
"It is one of the only things that has made me uncomfortable in my career is you take on a child who is sick when he was born and make it an issue... I find it very disgraceful. I am a movie star, disgrace me but not my kids," SRK told PTI.