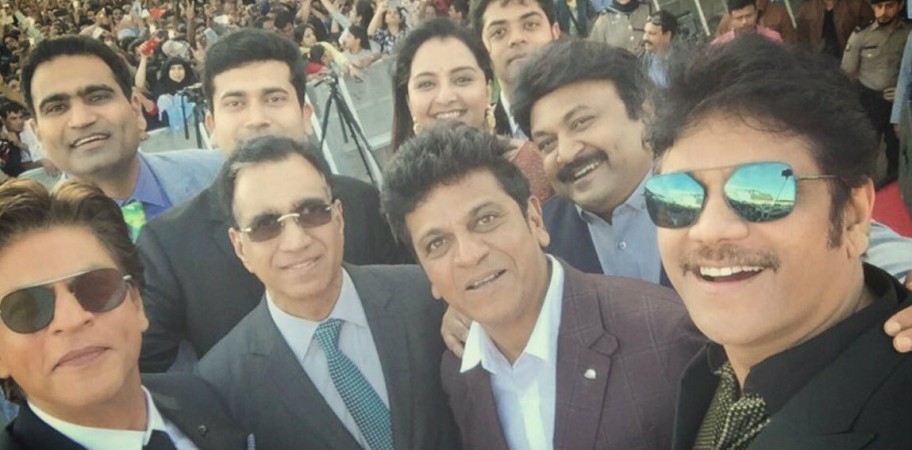 How often do you see Shah Rukh Khan bonding with the stars from the South? Cine-goers in Muscat beheld this rare sight when Bollywood's King Khan shared the dais with the likes of Shivaraj Kumar, Nagarjuna, Manju Warrier and Prabhu — the stars from Kannada, Telugu, Malayalam and Tamil film industries, respectively.
As brand ambassadors, the stars had come together to attend an event organised by Kalyan Jewllers in Muscat. Speaking at the event, Shah Rukh Khan said: "Firstly, I would like to thank Kalyan Jewellers and the whole family. Also to all my wonderful colleagues who I don't get opportunity to meet them often. This evening has been definitely beautiful because I get to see them as well as you all. Thank you Nag sir, Manju, thank you Shivaraj ji and Prabhu sir."
The stars apparently arrived late due to traffic issues and to make them happy Shah Rukh Khan decided to thrill them in his own style.
"Teri aankhon ki namkeen mastiyaan, Teri hansi ki beparwah gustaakhiyaan, Teri zulfon ki lehraati angdaaiyaan, Nahin bhoolunga main, Jab tak hai jaan.." the actor mouthed the poem from Jab Tak Hai Jaan to thundering applause.
He also invited the other stars to follow suit. Shivaraj Kumar, on his turn, sung the title song from the blockbuster Kannada film Jogi. Amitabh Bachchan was also supposed to attend the event, but could not turn up due to ill health.