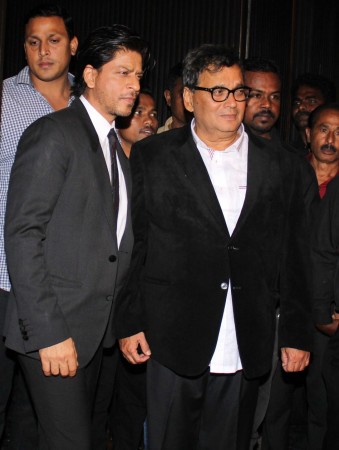 Bollywood superstar Shah Rukh Khan is known for his surprise acts. Recently the actor surprised everyone when he danced on top of a table at Subhash Ghai's wife Rehana's birthday party.
Last week the filmmaker celebrated his wife's birthday in Mumbai and several Bollywood biggies attended the bash.
Shah Rukh too was present in the grand party for around three hours. SRK was in a good mood and was enjoying the party with other celebrity guests, Mid-Day reports.
"Shah Rukh spent a lot of time at the party. He was there for nearly three hours. While leaving, he spotted actor Chandan Roy Sanyal atop a table and dancing. Chandan features in Ghai's upcoming film Kaanchi. Ghai joined him in the dance and heads turned when SRK climbed on to the table. It was very entertaining," Mid-Day quoted an onlooker as saying.
"The trio swayed to the Bhaag Milkha Singh Bhaag track Hawan Karengey. The guests encircled the table and started dancing around them," the onlooker added.
Bollywood who's who, including Aishwarya Rai Bachchan, Jaya Bachchan, Vrinda Rai, Rishi Kapoor, Jackie Shroff, Sunny Deol, Shatrughan Sinha, Rohit Roy, Veena Malik, among others attended the birthday bash.
During that same party, Jaya had lost her temper at photographers for repeatedly calling her daughter-in-law as just "Aishwarya".
When photographers called the former Miss World as "Aishwarya", Jaya was miffed and shouted at reporters and cameramen, saying "Kya Aishwarya Aishwarya bula rahe ho, tumhare class mein padhti thi kya? (Why are you calling her Aishwarya? Was she your classmate?) [Read the full news here]
However, Aishwarya did not lose her temper and kept her cool.