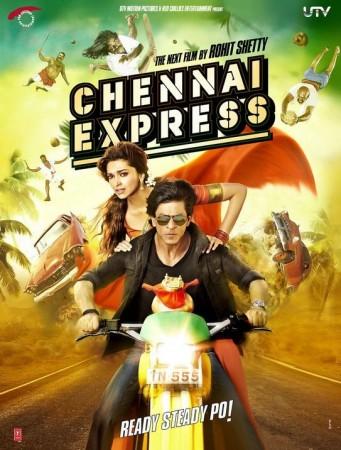 Bollywood actors Shah Rukh Khan and Deepika Padukone, who will soon be seen sharing screen space in the upcoming film, "Chennai Express", have got along so well that the actress claimed her co-star to be one of her closest friends on whom she can always rely upon.
Shah Rukh and Deepika were reunited for Rohit Shetty's "Chennai Express" after a gap of six years. The duo last shared screen space in Farah Khan's film "Om Shanti Om" in 2007.
Stressing that her bond with Shah Rukh has become so strong that she trusts him personally and professionally, Deepika told Press Trust Of India, "It was glad to be working with him again. He has become my very good friend today. He is someone I trust personally and professionally. I am sure he will always be there for me whenever I need him."
"Chennai Express", which is produced by Shah Rukh's wife Gauri Khan, is set to hit the screens on 8 August. The movie will take on Akshay Kumar and Sonakshi Sinha starrer - "Once Upon A Time In Mumbai Again" - which is due to be released on the same date.
Apart from SRK, Deepika also spoke at length about "Chennai Express" which falls in the genre of action comedy flick.
"It was lot of fun working on the film. It was a great experience. Rohit is known for making comedy films and this film as well has turned out to be very entertaining. It is very different from what he has done. I am quite excited about its release," Deepika said.
The 27-year-old had a spectacular year in terms of her acting career as two of her movies - "Race 2" and "Yeh Jawaani Hai Deewani" (YJHD) - made it to the club of ₹100-crore grossers.
After "Chennai Express" her next release this year will be Sanjay Leela Bhansali's "Ram Leela" co-starring Ranveer Singh. The actress, who will be seen playing the role of Juliet in the Indian adaptation of Shakespeare's love story 'Romeo and Juliet', said that Bhansali was a task master and made her to give her best in the movie.
Deepika also cleared the air about her relationship with Ranveer Singh, who was rumoured to be dating her after they met on the sets of "Ram Leela". Acknowledging Ranveer as a talented actor Deepika told the news agency that "It was a great experience working with him. He is a great co-star, a great person and nothing else. People create hype when the film is about to release. People shold understand it is all about onscreen chemistry. I don't feel the need to go and clarify things to people."