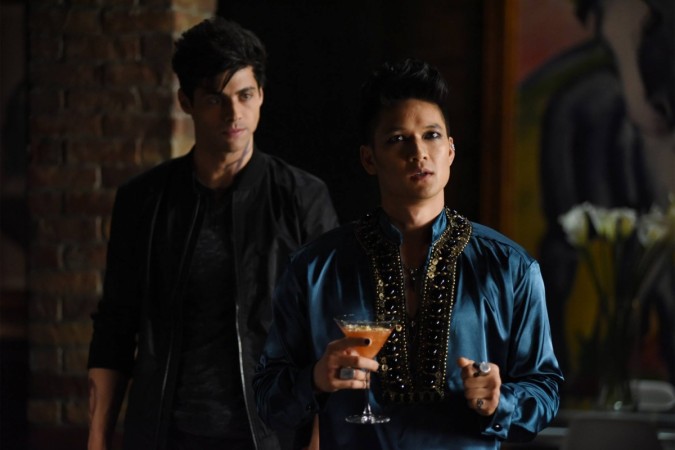 If there's a love story that's warm, fuzzy, filled with tension and yet exhilarating to watch, it is that of Magnus Bane (Harry Shum Jr.) and Alec Lightwood (Matthew Doddario). This couple on Freeform's "Shadowhunters" gives hopeless romantics more inspiration and makes the most cynical of fans believe that love can triumph.
At the end of "Shadowhunters" Season 1, Magnus and Alec did overcome their obstacles and shared a passionate kiss. But what can we expect from Malec when the TV series returns for Season 2?
According to Shum Jr. the upcoming instalment of the TV show, based on Cassandra Clare's "The Mortal Instruments" will delve deeper into Magnus and Alec's love story. The 34-year-old actor added that the shadowhunter and the warlock of Brooklyn will discover what it's like to be with each other and in the process, learn more about their partner.
Of course, this journey could bring about problems in their relationship as they are extremely different. Fans of the show will remember Alec as the serious, responsible first born of the Lightwoods, while Magnus has always been opulent, quirky and anything but conventional.
However, this difference in their personalities could only pose a minor problem. While describing Magnus and Alec's relationship, Shum Jr. told Hollywood Life, "It's like that Paula Abdul song "Opposites Attract." That has a lot to do with it because there's so much that can be learned from both sides. Even this guy that's been around for so long, there's a lot that he can learn from Alec and vice versa."
Nonetheless, Shum Jr. also indicated that his character's dark past could ruin his present. The warlock, who has been alive for 400 years, is really a "tormented soul" in the actor's words and perhaps his residual feelings from his varied experiences might affect his happiness with Alec. However, does Alec have the will power and the emotional maturity to stand by his love? It remains to be seen.
"Shadowhunters" Season 2 will premier in the first half of 2017.