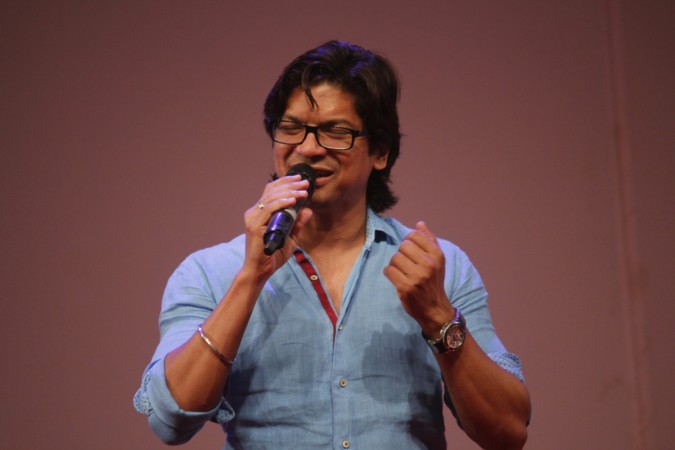 Popular singer, Shaan faced an untoward incident while performing at an open concert at Guwahati, Assam. An unidentified person from the audience threw a paper ball at him when he was singing a Hindi song, following which, the singer gave a strong response right on the spot.
Shaan was performing at Sarusajai stadium in Guwahati. While everything was fine till he was singing only Assamese songs, someone from the audience threw a paper ball at him after he started singing Bengali and Hindi songs.
The singer lost his cool at the misbehaviour and immediately got the culprit out of the stadium by the security. "Get him out of the stage right now. Don't try to make a political issue out of this. Never throw things at an artist. I will fling this mic on you and it will hurt you more. How dare you? Learn to respect a performer. If you don't like it, go away," an extremely angry Shaan said to the audience member from the stage.
While Shaan almost decided to leave the stage mid-way, he again sang a few more songs for the sake of the audience. "I am here in very heavy fever, I am under antibiotics. And I am here performing all night for you. And if this is the kind of response and if this is the kind of people here, I am not interested," he said before singing the last few songs.
He ended the show by singing a Bihu song, but he spoke out some more wise words to the audience saying that India is one, and urged them not to become restricted in mindset.
A video of the incident has gone viral on internet and strong reactions came in on social media. Slamming the act of the culprit, many on social media praised Shaan for his response and expressed grief at the incident.
The singer responded to some of the apologies on Twitter, and again urged the people of Assam not to develop "regional divide sentiments". "My outcry was not directed to that One Individual but to all who are harbouring these 'Regional Devide' Sentiments!! The Youth must not fall into this trap #StayUnited [sic]," he said in one tweet.
"Please don't be .. was a great night .. and I should've kept my cool .. Sorry to Spoil the party at the end [sic]," he replied to one who felt sorry for the incident.
"Just for the records ...loved my Assam Tour!! Saw the most fascinating sights...made new friends..had huge turnouts at every concert.. Over one unfortunate incident it would be Very Wrong to Tarnish this Beautiful State!!! Whatever happened was in the heat of the moment [sic]," he said in the last tweet.
Watch the video below: