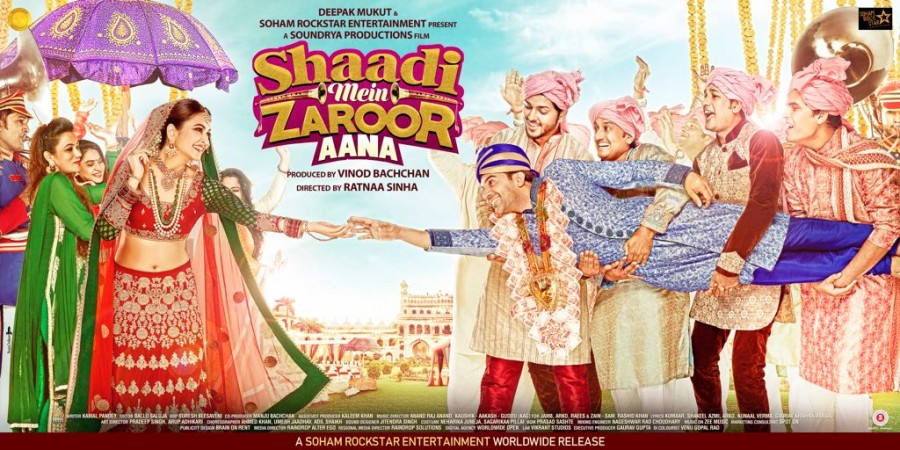 Rajkummar Rao is back with his latest release Shaadi Mein Zaroor Aana starring Kriti Kharbanda opposite him. It is a romantic comedy coupled with a revenge story.
The film released on November 10 across India, and reviews are already out. Directed by Ratnaa Sinha, Shaadi Mein Zaroor Aana has received a mixed response from the critics.
While some said that the film is decent enough to watch once, some others claimed it to be a dull movie. It is also being said that the second half of the film has been dragged unnecessarily. Rajkummar Rao's performance like always is being appreciated. Kriti too has apparently done justice to her character.
Meanwhile, many celebrities have been batting for the film on social media. Stars like Shah Rukh Khan, Varun Dhawan, Ayushmann Khurrana, Bobby Deol, among some others wished good luck to the team of Shaadi Mein Zaroor Aana.
Check some of the reviews and ratings on Shaadi Mein Zaroor Aana.
Umesh Punwani from Koimoi: Skip this wedding! Shaadi Mein Zaroor Aana is a failed and stereotypical attempt at tackling issues like dowry and sexism. You can watch it for Rajkummar Rao and Kriti Kharbanda – if this single reason is enough for you. (2*/5*)
Renuka Vyavahare from Times of India: The film could have been much better than it eventually turns out to be. But if you don't mind watching a modest family drama, reminiscent of the 90s, you won't mind being privy to this emotional alliance. (3*/5*)
Sweta Kaushal from Hindustan Times: The film, however, leans too much on clichés. Songs are abrupt and obstruct the narrative. The filmmakers have also relied heavily on melodrama but despite these minor hiccups, this is an invitation you must not miss. (3.5*/5*)
Mumbai Mirror: If the noble cause of this film was to train societal soch, the regressive characters could've at least gone through a mindset makeover by the climax. But the only transformation here, happens for those in the audience — greying guaranteed. (2*/5*)
Saibal Chatterjee from NDTV: Shaadi Mein Zaroor Aana? Ignore the invite. But if you still want to give it a shot simply because of Rajkummar Rao, heed this advice: he has done, and will do, infinitely better films? Wait for the next one. (1.5*/5*)
Shubhra Gupta from The Indian Express: What also keeps us watching is, of course, Rao. He's had a super year, and this time around too, he makes his Sattu a real, vulnerable guy. But maybe he needs to take a break from being a small-town lover boy. It's all becoming too much of a muchness, as are movies set in these small towns, and their quirky, colourful characters. (1.5*/5*)
Meena Iyer from DNA: All in all, it's a film that had potential to be a sweet love story. However, this one doesn't quite get there because it's not passionate enough on any count—be it in its social messaging--or be it in the romance. (2.5*/5*)