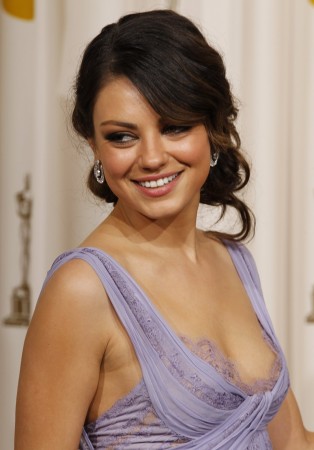 Actress Mila Kunis won the Sexiest Picture Of 2012 in a poll conducted by The Sun, beating the likes of glamour girl Jodie Marsh and Pamela Anderson, with her topless photo for the cover of men's magazine Esquire.
Mila received 20 per cent of the 38,670 votes cast in an online survey, beating television artiste Kim Kardashian, actress Pamela Anderson and Tulisa Contostavlos, and she was closely followed by bodybuilder Jodie Marsh with 18 per cent votes, reported The Sun.
Jodie Marsh had earlier campaigned aggressively on Twitter for votes, claiming that she would spread anti-bullying message she won the survey.
"If I win this I will have yet another platform to spread the anti bullying message & to show that bullying is NOT cool. Imagine if an anti bullying campaigner won the sexiest pic of 2012! "And this award is dedicated to my bullies" #antibullying X x x," she tweeted.
"Another reason I wanna win the vote (in case you missed it) I've been through shit. Now I'm able to make a difference. If I win this I'll release a 20% off code for all my @JSTJODIE products. #VoteJodieMarsh #loveyousooooomuch x x x." she added.
However, she failed to beat the stunning 29-year-old American actress Mila Kunis, whose topless photo on the cover page of men's magazine Esquire, attracted more voters.
Kunis was given "the sexiest woman alive" title by Esquire magazine in its November Issue.