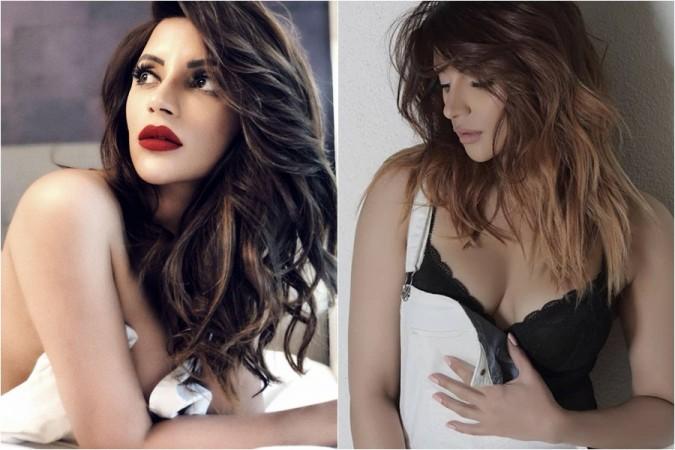 Shama Sikander, who stunned everyone with her sensuous avatar in Vikram Bhatt's adult love story web series Maaya, has been burning the internet with her hot pictures. She often posts pictures donning a bikini during her vacations at some of the exotic places in the world. And now the Sexaholic actress decided to shed her inhibitions and went topless for a recent photoshoot.
The 36-year-old actress took off her shirt and was seen lying on a bed while covering her modesty with sheets. The photo was aesthetically shot by photographer Pranjali Nigudkar and there's no doubt that Shama looked mesmerizing in her bold pictures. And her followers were left in awe of her beauty and called her the most beautiful girl in the world.
Sharing the picture on Instagram, Shama Sikander shared an inspirational quote which reads, "Too many of us are not living our dreams because we are living our fears..#AbDilKiSunn."
But trolls criticized her for her inspirational quote and wrote, "Who asked you to live with your fears... your facial make over is one such sample. You were angel with God's bestowed face but you did not respect his work. Sorry to say, this may not prove worth for you. Now live with it, it's your destiny."
Another troll wrote, "Slowly progressing towards nude...great darling...awaiting fr ur further moves..when can we see this piece of cloth also removed?..sexy."
"Not recognizable post surgery," a user commented on her post while another said, "These quotes only look beautiful after u get the success got it."
Objecting to Shama posing topless, a user wrote, "Bt beauty looks more good wen its covered" while other asked, "Yeh Kya hai ?? Kuch sharm tumhe nhi aati (What is this? Don't you feel ashamed)."
Another user trolled her body transformation, "I have watched your tv serials. How many plastic surgeries ? You dont even look close to the way you used to look. Whole damm face is changed lol good work on face though."
Many said she deserves to be in Hollywood or porn world while many commented that her dream is to roam naked around.
And there have been several times when Shama had been trolled for her choice of clothes and her decisions. But she has always given befitting replies to trolls and has remained unperturbed despite facing negativity on social media.