After hundreds were evacuated from low-lying areas when cyclone Lehar crossed Andaman and Nicobar Islands with wind speed of 110 kmph, the severe cyclonic storm will cross Andhra Pradesh on 28 November in the evening.
'Lehar' intensified into a severe cyclonic storm before crossing Andaman and Nicobar Islands and laid centred over southeast Bay of Bengal, 1300km east-southeast of Machilipatnam at 5.30 am on Monday, the Indian Meteorological Department said in a statement.
The IMD released a warning for the Islands saying, "Sea condition will be high to very high along and off Andaman & Nicobar Islands during next 12 hrs. Damage expected due to a cyclonic storm. Extensive damage to thatched roofs and huts. Flooding of escape routes is also expected."
"We have taken all precautionary measures following the cyclonic storm and people from the vulnerable areas have been shifted to safer places," Sanjay Kumar, Deputy Commissioner of North and Middle Andaman told PTI.
The IMD added that the cyclone Lehar 'would intensify further gradually into a very severe cyclonic storm and would move west-northwestwards' towards the Deccan state. 'Lehar' will make a landfall at the Andhra Pradesh coast near Visakhapatnam at about 1800 UTC of 28 November, latest bulletin by the IMD said.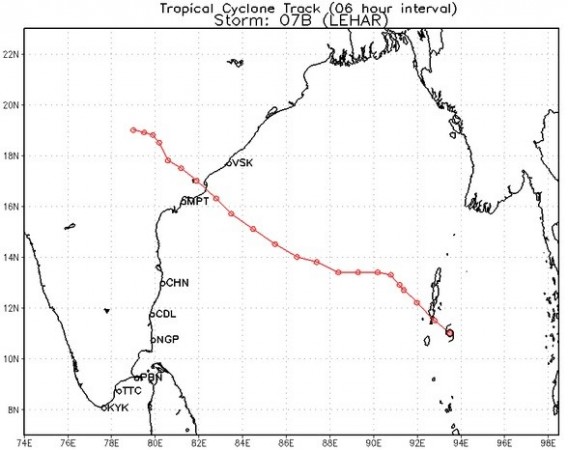 This natural disaster will strike Andhra Pradesh just days after another tropical storm - Helen - killed six and affected 70,303 people in 96 villages. Cyclone Lehar will cross its coastline between Machilipatnam and Kalingapatnam around noon on Thursday.
While damage caused by cyclone Phailin is still being assessed in Andhra Pradesh, Helen left crops worth ₹994.26 lakh damaged in five coastal districts, reported PTI.
Many places over north coastal Andhra Pradesh, south coastal Odisha and coastal and south interior Karnataka will witness moderate to heavy rainfall from 27 November afternoon till 1 December, IMD said.
"Squally winds speed reaching 45-55 kmph gusting to 65 kmph would commence along and off Andhra Pradesh and south Odisha coasts from 27th evening. It would increase in intensity with gale wind speed reaching 170-180 kmph gusting to 200 kmph along and off coastal districts of north coastal Andhra Pradesh and adjoining south coastal Andhra Pradesh at the time of landfall," IMD, Hyderabad, said in its latest bulletin.