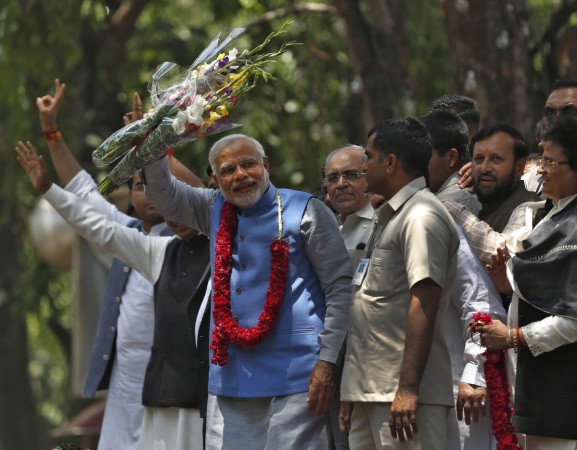 When Narendra Modi holds his first meeting at South Block after being sworn-in as the 15th Prime Minister of India, he will be handed over a list of key issues that he will have to address on an urgent basis.
The office of the outgoing Prime Minister Manmohan Singh will put together a list of issues, and the dossier will then be handed over to Modi.
Here are seven of the top issues that Modi-led government will have to address on a priority basis:
Tame inflation: BJP during the election speeches had promised to "break the vicious cycle of high inflation and high interest rates" through a slew of measures. The spurt in prices of essential commodities, including food items, ultimately led to Congress' decimation in the Lok Sabha polls and for Modi government, reining in the soaring inflation will have to be a key priority, especially for maintaining goodwill among the masses.
Budget preparation: The new BJP-government soon will have to present a full-fledged budget. The key issue for Modi-led government will be reviving economic growth, dealing with the huge fiscal deficit and creating job opportunities, besides containing the interest rates. The party might be required to take some tough decisions, which might affect the masses.
Restarting Atal Bihari Vajpayee Government's disinvestment plan would be vital for the growth of the country. During Vajpayee government's tenure, the disinvestment plan proved to be very successful, but it had to be stopped during Manmohan Singh's tenure, largely owing to the resistance from Trinamool Congress and other allies. Several public sector undertakings that are running in loses will have to be studied for disinvestment.
Finalizing on Group of Ministers and Empowered Group of Ministers will be a crucial task. Preparing the list of ministers, who will form the core Group of Ministers(GoM) and Empowered Group of Ministers (EGoM) will prove to be daunting task. Singh's government had 78 GOMs and 16 EGoMs.
Drawing action plan on terrorism and Naxal activity: Modi till now has taken a strong stance in his speech against terrorism and hence NDA is expected to take strict actions against terrorism both outside and inside the country. Curbing Naxal activities will also be on top of its agenda.
Top Bureaucratic reshuffle: After taking his oath, Modi led NDA government will be looking at major reshuffles in top bureaucratic ranks, including filling major departments and appointing ministers in concerned ministries.
Action plan on pending legislations: The outgoing government has left several key legislations such as Lokpal Bill and women's reservation, hanging. Modi government will have to either renew the bills or restart the debates on the bills that are pending in Rajya Sabha.