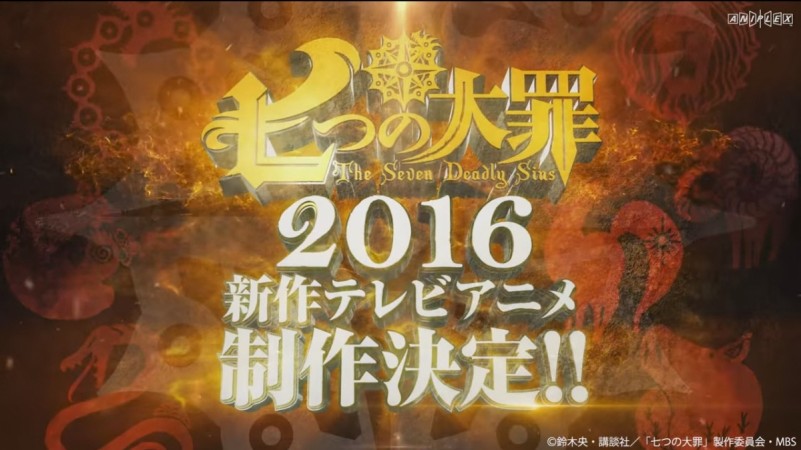 The release date of Netflix anime series "The Seven Deadly Sins" has been confirmed for 2016. However, it seems that the English dubbed air date won't be until 2017.
Originally known as "Nanatsu no Taizai" in Japan, the anime series showrunners have produced several Original Video Animations (OVA) in 2015. However, much to the disappointment of English-speaking fans, the videos are only available with English subtitles for now.
The publishing house of the manga, Kodansha Comics, has released a number of English issues, but it is the release schedule of the Japanese manga that hints at the fact that the plot of "The Seven Deadly Sins" manga and the anime series will diverge, like many other anime series in the past.
In a commercial video aired during the final episode of "Arslan Senki," or "The Heroic Legend of Arslan," it was confirmed that a Season 2 is definitely on its way. The video displays a text that states the "production is green-lit" for 2016.
However, as the first season was aired on Netflix in November 2015 even though the series had already aired in Japan in March 2015, there is a possibility that the same will happen with the second season too. Hence, the North American fans might not get to see the series before 2017.
The announcement also didn't make it clear whether Season 2 will be a sequel or not, as writer and illustrator of "The Seven Deadly Sins" manga Nakaba Suzuki has stated that he has plans to release three different story arcs for the manga. Each of them will be of 100 chapters of 300 chapters in total.
Given the manga release schedule, it is unlikely that Suzuki will be able to finish the second arc of the manga before "The Seven Deadly Sins" Season 2 is aired in 2016. However, he has promised to finish the story as soon as possible.