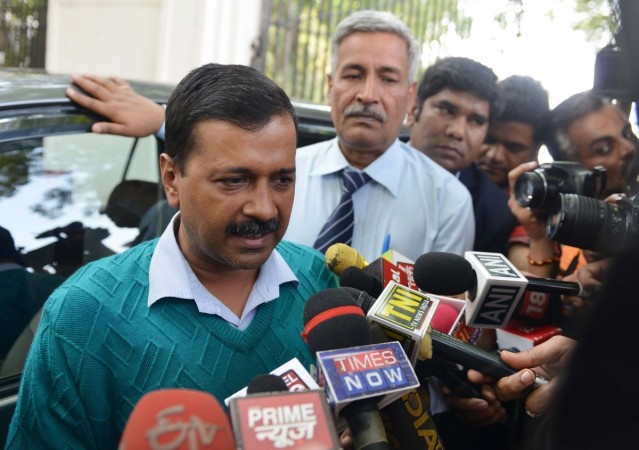 With less than four weeks to go for the Municipal Corporation of Delhi (MCD) polls and the Aam Aadmi Party (AAP) doing all it can to revive its political fortunes after the disappointment in Punjab and Goa, it received a setback. On Monday (March 27), an MLA of Delhi Chief Minister Arvind Kejriwal's party defected and joined the BJP, the opponent it had decimated in the 2015 Assembly elections.
AAP legislator Ved Prakash from Bawana joined the BJP in the presence of Delhi BJP chief Manoj Tiwari and party MLA Vijender Gupta. Tiwari tweeted the photograph on Monday.
"A big change is taking place in the country. Prime Minister Modi has come at the forefront as a yogi (ascetic) and Yogi (Adityanath) has come in Uttar Pradesh. I have come here (in the BJP's fold) to become part of that change," Prakash said. He alleged that Deputy Chief Minister Manish Sisodia did not pick his phone call when he called to inform about a five-year-old girl being raped in his area.
"A five-year-old girl was raped in my area. I called up Manish Sisodia. I messaged him. But, he did not pick up my phone for three days. The minister does not pick up phone calls from an MLA," he said.
AAP, however, said Prakash's move would not affect the party.
"People told me that we did not give you 67 elections just like that. People gave AAP 67 seats since it was a new party and it was unlike the BJP and Congress, which buy people, threaten and blackmail them," AAP MLA Alka Lamba told the International Business Times, India.
"Some people will not be threatened by their strategies, such as our 21 MLAs who went to jail as they did not get pressured by other parties. Some, whoever, might fall under pressure by other parties," she said.
"We will not compromise on the agenda on which we were elected," she said.
Issues taken up by AAP
Meanwhile, Kejriwal, who has been at the receiving end after his party failed to deliver in Punjab and Goa despite making promises, was also facing flak as many believed it has not delivered as per the people's expectations in Delhi in the last two years.
On Saturday (March 25), Kejriwal, who is known for his populist promises like free water and reduced electricity bill in the National Capital, said that he would abolish residential house tax if his party won the MCD polls.
"The BJP has still not decided a list of candidates yet and we are already on our second list," AAP MLA Alka Lamba told IB Times. "Cleanliness will be our primary issue during the MCD polls. Despite Swacch Bharat Abhiyan and support from the Modi government, the BJP, which has been in the MCD for 10 years, has not been able to clean Delhi up," she said.
"We will be focussing on corruption and cleanliness. We will also be looking at MCD schools and hospitals. We are comparing MCD schools and hospitals with two-year old Kejriwal government's schools and hospitals," she said. She added, saying her party would also take up the issue of parking "mafia".
"People are stuck in jams for hours because cars are parked on roads," she said.
BJP's attack on AAP
BJP chief Amit Shah launched a scathing attack on Kejriwal saying that corruption has flourished under his rule. The BJP is currently in power in the MCD and intends to make a hat-trick. The BJP will have Prime Minister Narendra Modi, sports and TV celebrities as star campaigners for the MCD polls.
"We will tell the people that the Kejriwal government has not fulfilled its promises. They had promised WiFi in Delhi and commandoes for women's security but they have done nothing about it. They have not opened a single new college despite promising to open 20 colleges. One Delhi government college has been shut down during this time. They had also promised 500 new schools but they haven't even laid the foundation for it," BJP Delhi spokesperson Tajinder Pal Bagga told IB Times, India.
"We will showcase our performance in the BJP to people. We haven't increased any revenue for the last 10 years. Kejriwal had stopped MCD funds and we had gone to court. The Delhi government had written a letter that underlined conditions of the government for releasing the funds. Among the conditions was one about no rebate on house tax. And now, he talks about removing house tax," he added.
Kejriwal promised 2 abolish house tax if AAP wins MCD,but in 15-16 he written 2 letters to not provide concession on Tax & increase prop tax pic.twitter.com/a4zJHcrutd

— Tajinder Pal S Bagga (@TajinderBagga) March 27, 2017
The MCD polls will be held on April 23 and counting will take place on April 26. The BJP has recently made great progess in Maharashtra corporation polls apart from sweeping Uttar Pradesh and Uttarakhand. The BJP also formed governments in Manipur and Goa in alliance with regional parties despite winning less seats than Congress.