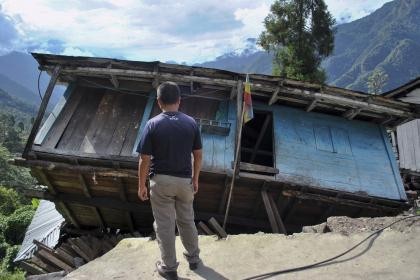 A series of four earthquakes shook the National Capital Region early on Tuesday within a span of four hours.
The first earthquake measuring 3.1 on the Richter scale jolted the national capital city Delhi after 12.30 a.m. (IST)
"The epicentre of the earthquake feels to be in the national capital territory. However, we are still analysing the data," an Indian Meteorological Department (IMD) official told The Hindu.
Strong tremors lasted for a few seconds. The epicentre of the temblor was centred near South Delhi area of Sainik Farms and was reportedly at a depth of 10 kilometres.
The second quake hit with an intensity of 3.3 on the Richter scale an hour later at 1.41 am. This time adjacent towns of Ghaziabad and Noida also felt the temblor it along with Delhi. The quake had its epicenter further south, which was centred south-east of Manesar beyond Gurgaon in Haryana.
People in the villages of Noida stepped out of their houses to secure themselves. Mild tremors were felt again as quake of 2.5 and 2.8 magnitudes hit the NCR at 1.55 and 3.40 am respectively.
"We felt the tremors at least four times in the night. We all came out. The children were scared," a local resident of Gurgaon told ANI. Another resident said, "I felt the tremors at around 2 a.m. I got scared. When I came out I saw a lot of people gathered outside."
Naresh, another resident, said, "I was sleeping and I felt the tremors suddenly. I came out and saw a lot of people outside."
On micro-blogging site of Twitter, Ridhi Kapoor tweeted, "Couldn't sleep last night! Two earthquake jerks here in delhi and the bed shook like crazy!!"
There have been no reports of property damage or casualty.
Series of earthquakes hit the NCR