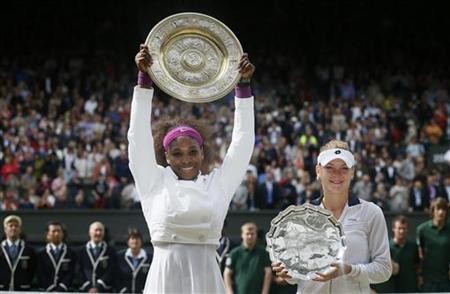 Former world no.1 Serena Williams win her fifth Wimbledon women's singles title on Saturday, beating Poland's Agnieszka Radwanska 6-1 5-7 6-2.
It was the 30-year-old American's seventh Wimbledon singles final and her 14th grand slam singles title.
Agnieszka Radwanska, who picked up an upper respiratory illness on the eve of her first grand slam final, looked nervous in the first set but fought back bravely in the second set. However, Serena was too strong for the 23-year-old Polish.
Williams, who was out of action for a year after cutting her foot, collapsed backwards to the court after beating Radwanska, and then hugged her father Richard and the rest of her entourage.
"I can't even describe it," said an emotional Williams in an on-court interview. "I almost didn't make it a few years ago. I was in hospital but now I'm here again and it was so worth it. I'm so happy. Just never give up, you can continue. Thank you, guys in the box today, daddy, mum - I can't name everyone one but thank you from the bottom of my heart."
The victory made her the oldest women to win a grand slam after Martina Navratilova, who won the title in 1990, aged 33.
Agnieszka Radwanska's Brave Show
Radwanska put up a brave fight despite health scare on the eve of her dream final match, forcing Serena for a three-setter. She was graceful in defeat, admitting that her opponent was too good on the day.
"I think I had the best two weeks of my life," said an emotional Radwanska on court. "She was too good today but I'm just so happy to be here in the final. I think it was not my day but I'll try again next year."
Currently ranked no.3, she is now ranked world no.2 after her Wimbledon final appearance. She is also the first Polish woman to reach a grand slam final since Jadwiga Jedrzejowska reached French Open in 1939.
Agnieszka Radwanska reached the Wimbledon final for a clash with Serena by beating Angelique Kerber of Germany 6-3 6-4 in the semi final.