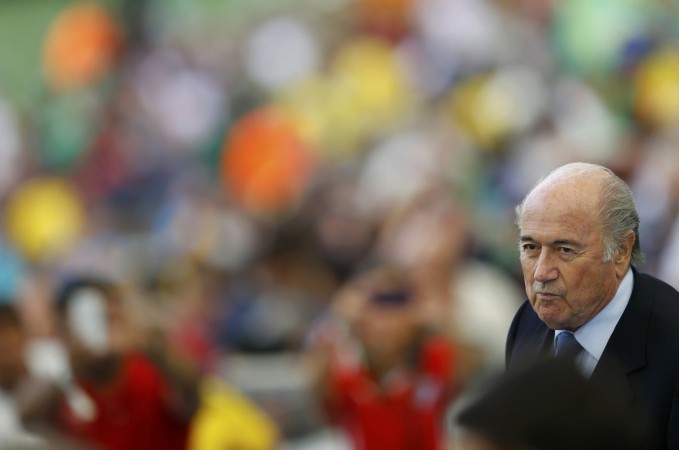 FIFA President Sepp Blatter has confirmed that he will seek a mandate to remain at the top of world football's governing body, in a statement that completely contradicts his earlier declaration that his current term as the president of FIFA would be his last.
Blatter made this announcement at the Soccerex Global Convention, in Manchester, while speaking on a video link. He explained his decision by saying that his "mission is not finished" yet, and that he wished to carry on.
"I will inform the executive committee," Blatter was quoted as saying in The Guardian. It's a question of respect also to say to the football family: 'Yes I will be ready. I will be a candidate.'"
Blatter is expected to inform the executive committee some time later this week. This announcement by the FIFA president comes just three months after he received backing from five out of the six continental federations in world football. Baltter's only opposition came from UEFA, with the English FA leading the way.
Blatter also accused the FA of being a disgruntled loser to the 2018 World Cup bid by Russia. The FA chairman Greg Dykes had earlier criticised Blatter and FIFA, as he questioned the legitimacy of the 2018 World Cup bids, questioning the "fair play" in the whole process. Dykes had also gone as far as comparing Blatter's FIFA to "North Korea".
The election for the FIFA presidency is due to take place on Friday, 29 May, 2015, in Zurich. Till now, Blatter's only opponent seems to be Jerome Champagne, former director of international relations at FIFA.
Blatter also spoke about the proposed boycott of the 2018 FIFA World Cup in Russia and the 2022 WC in Qatar for varied reasons. He opined that the international community would gain nothing out of the boycott, and that sports and politics should be kept away from each other.
"The decisions have been taken and we trust in the strengths of football that the 2018 and 2022 World Cups will be played, he said. "There are already some voices coming out about 2018 talking about a boycott – a boycott in sport never has had any benefit.
"Let us wait and see the geo-political situation and FIFA shall not intervene with politics. But for the time being we are working with Russia."
He also spoke about racism at the convention, and said that the federations should take a stronger stance against racist comments and chants by players and fans.