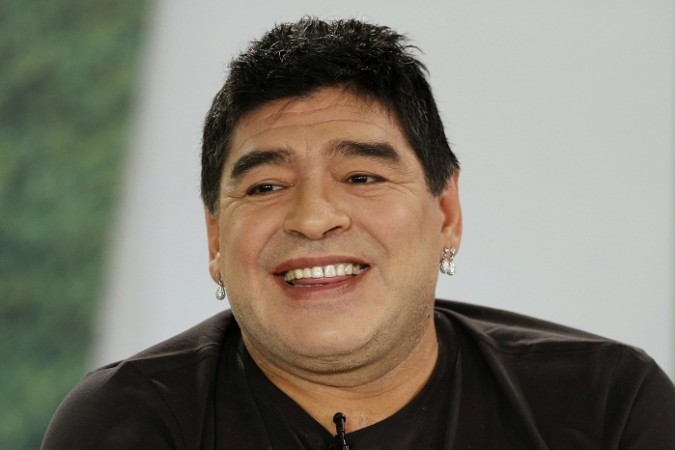 After Sepp Blatter announced he will be stepping down as FIFA president as soon as a new election can be conducted, the next questions that inevitably arises is: "So who will be the new president?"
Well, if the Venezuelan president Nicolas Maduro has his way, it will be one of the sport's greatest ever players – Diego Maradona.
"The president of the international football federation should be Diego Armando Maradona or someone like him," said Maduro during his weekly televised address.
"Diego Armando Maradona has been denouncing FIFA for decades, they've threatened him and they've laughed at him."
While Maduro might want a former player to lead FIFA's governing body, he was highly critical of the US authorities who arrested several FIFA personnel as part of a corruption investigation.
"They are getting Blatter out of the way so that they can govern FIFA," he added. "The manoeuvre is meant to see how they can take the World Cup away from Russia and Qatar or to sabotage them so that they cannot shine."
Another former great who could throw his hat into the ring is Zico, after the Brazilian legend admitted he would be open to standing for the FIFA president's post.
"Why not?" he asked in a Facebook post from Berlin where he will attend Saturday's Champions League final between Barcelona and Juventus.
"My life has always been in football. It's a passion I served with seriousness and respect in Brazil and other countries.
"I was Sports Minister, I have experience with my club and in helping Kashima in Japan. I put football above politics."
Zico, who was the coach of Indian Super League team FC Goa last season, and was a member of the 1978, 1982 and 1986 World Cup sides, admitted he has not received any backing yet from anyone, but if he does, he will definitely consider making a firm move for the top job.
"I don't have any support yet but if it's opened up then I can run (for president) of FIFA," Zico wrote. "It's just an idea for now ... But who knows?"