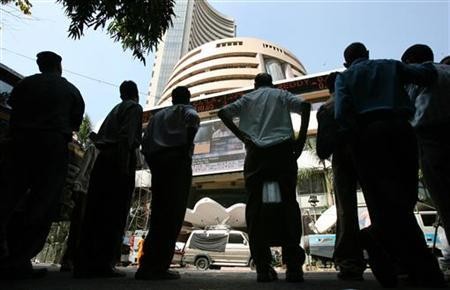 Indian stock markets surged on Thursday with Sensex gaining more than 400 points and the Nifty closing above its psychological 5400 level, as the rupee rebounded from a record low against the US dollar.
The benchmark BSE Sensex surged 2.25 percent, or 404.89 points, to 18,401.04. The 50 share NSE Nifty climbed 2.35 percent, or 124.05 points, to 5,409.05.
Markets opened on a high note, tracking positive cues from Asian peers. Both Sensex and Nifty surged nearly 2 percent by the afternoon trade as the Indian domestic currency recovered from a record low on Thursday after the Reserve Bank of India's (RBI) move to provide dollars directly to State-owned oil companies.
The Indian rupee surged 2.01 percent or 138 paise to 67.41 against the US dollar by the late afternoon trade on Thursday after reporting the biggest single day decline in nearly 18 years in the previous session. The rupee on Wednesday plunged 3.7 percent or 256 paise to a new historic low of 68.85 against the dollar before closing the day at a record closing low of 68.80.
"The measure is unlikely to arrest the decline in the INR with the authorities increasingly trying to find new means to stem the rout in the currency," Mitul Kotecha, head of global markets research for Asia at Credit Agricole in Hong Kong, said in an email to clients, Reuters reported.
All the 13 BSE sectoral indices ended with gains. Metal sector surged 2.08 percent and oil & gas sector climbed 2.17 percent, while capital goods and FMCG sectors gained 1.93 percent and 1.95 percent respectively.
Oil companies' shares gained after the Indian central bank on Wednesday opened a special window to help the three state-owned oil companies. Bharat Petroleum Corp Ltd gained 0.43 percent and Indian Oil Corp Ltd. Surged 1.67 percent.
The overall market breadth is positive with 1272 advanced against 988 declines on the BSE.
Meanwhile, Asian stock markets mostly advanced as energy stocks rallied after US benchmark crude oil prices hit $110 a barrel overnight on concerns over possible US action against Syria.
Japan's Nikkei gained 091 percent and Hong Kong's Hang Seng advanced 0.84 percent, while South Korea's KOSPI surged 1.22 percent and China's Shanghai Composite declined 0.19 percent.