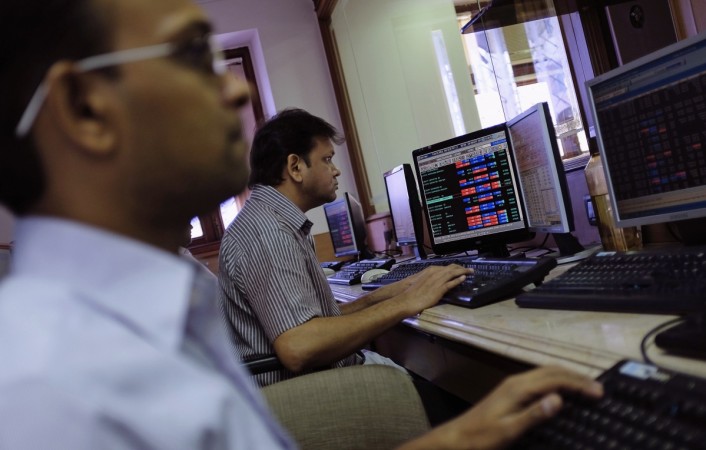 The Indian rupee opened at 58.84 against the US dollar in early trade, at 11:50 am on Thursday.
The rupee saw a 3-day losing streak on Wednesday as foreign funds and companies helped in dollar inflows, which are related to high demand for greenback from importers.
The rupee closed at 58.93 per dollar on Wednesday compared to 59.04 on Tuesday.
At 11:45 am on Thursday, Sensex was down 24411.80 points losing 144.29 points. Nifty also declined with 7296.55 points losing 33.10 points during early trade.
About 1123 shares have advanced, 1195 shares declined, and 88 shares are unchanged.
Meanwhile, on Wednesday evening, BSE Sensex rose to 24556.09 points gaining 6.58 points. In terms of percentage, it went up by 0.03 percent. And Nifty reclaimed the 7300 mark in the afternoon trade.
BSE top gainers on Wednesday evening were Tata Power, HDFC Bank, Hero Motocorp, Bharati Airtel and Dr Reddy Labs.
NSE top gainers were Ambuja cemets, Ultratech cement, HCL Tech, ACC and Tata Power.
The rupee gained last week on Thursday, when it closed 31 paise higher at 58.47 per dollar, owing to Modi's revelation of a slimmer cabinet.
Infosys shares sinked 7 percent after its board member and president B G Srinivas announced his resignation, who was one of the top contenders for CEO post among its non-founders. It has to be noted that this is the 10th high-profile exit from Infosys during the last one year.
"The market may be miscalculating RBI's buying power, and underrating the side-effects if central bank were indeed to go on a dollar-buying binge." says Espirito Santo analyst Deepali Bhargava. She expects the rupee to strengthen to 55 against the dollar over the next 12 months.