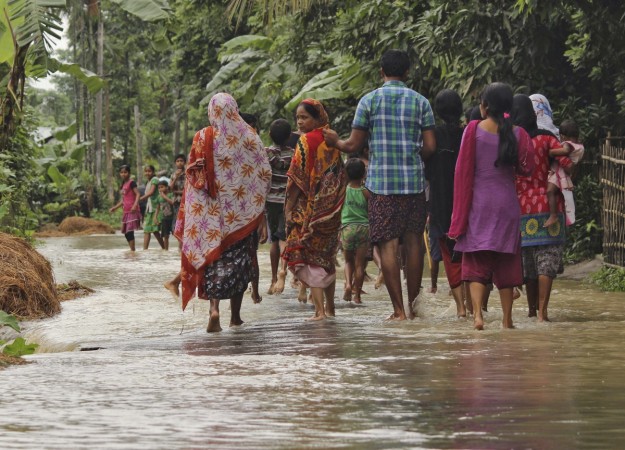 A senior civil service officer from Assam was suspended by the State government on Saturday for including the picture of a rescued deer from the Bangladesh floods of 2014 in the Assam government's interim report on the State's flood situation to Union Home Minister Rajnath Singh.
The 10-page report that Assam Chief Minister Sarbananda Sonowal handed over to Singh in Guwahati consisted of nine pictures of the floods. The goof up was noticed by journalists who attended the Home minister's press conference at the end of his visit to the State to take stock of the flood situation. Journalists found out that one of the pictures was from the floods that hit Bangladesh in 2014 and not from Assam.
The photograph, which was taken by wildlife photographer Hasibul Wahab, showed Belal, a boy in his 20s, rescuing a baby deer at the risk of his own life.
Dipak Kumar Sarma, chief executive officer of the Assam State Disaster Management Authority (ASDMA) released an "urgent corrigendum" to the media via e-mail saying that "a pictorial error has occurred inadvertently showing photograph of rescue of a spotted deer which is not related to Assam" in the interim flood report submitted to Singh, the Indian Express reported.
Senior government officials in Assam accepted the mistake but tried to shift the blame on "some" district collectors who forwarded the photograph to the State capital. "It is a big mistake. We accept it. Actually some DCs have forwarded this to us because of similarity with situation in Kaziranga National Park," a senior official was quoted by NDTV.
Another official said that residents in and around the national park have been rescuing animals stuck in the floods. Therefore, officials might have been "misled" to include the picture.
The floods in Assam have so far claimed the lives of 29 people and affected over 37 lakh people residing in 3,300 villages across 28 districts of Assam. Around 970 relief camps have been set up in which over five lakh people have been given shelter.