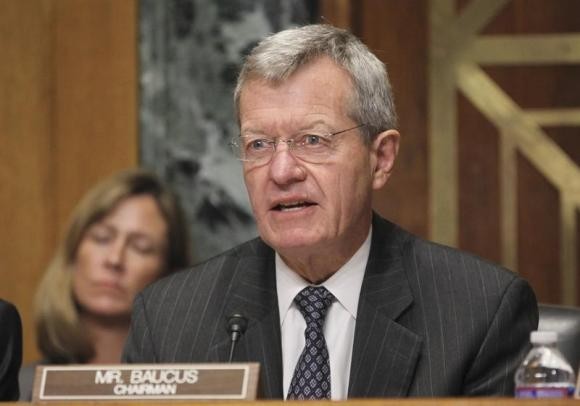 U.S. Senator Max Baucus, a Montana Democrat who is known to have taken a tough stance towards Chinese policies and has pushed the Obama administration to press China to halt the cyber theft of intellectual property, is going to be nominated as the next ambassador to Beijing, Senate aides have said.
Although the White House and the Senate have not confirmed the news, talks have already begun to surface in the media on why Baucus will be, if he indeed is picked as the ambassador to China, a strange choice for the post.
Apart from the fact that Baucus has had staunch opinions about China's practices that discriminate against U.S. companies, one good reason why it would be strange to pick him for the post is that he will be one of the few Ambassadors to China who doesn't speak Chinese language.
Many ambassadors to various countries do not know the language of the country they are in, but given that the US-China relations hasn't particularly been friendly for years now, it tends to be important for US to be choosy on who would be the best to deal with a country like China. More importantly, analysts believe that, if given a closer look, there are many others who could do the job better.
Baucus has traveled to China to promote trade, and has been noted for his role in the 1990s to admit China into the World Trade Organization in 2001. He is also known for initiating normal bilateral trade relation with the country. But as Max Fisher with the Washington Post points, his CV does not really scream "China" to its best.
Many ambassadors to China in the past have spoken fluent Chinese, which includes the Obama-appointed Ambassador John Huntsman who had been in the post from 2009 to 2011. The second ambassador to China, also appointed by Obama, Gary Locke, did not speak Chinese but is a Chinese-American, which somehow tended to be an added advantage for the post. It has been an undeniable collective psychological phenomenon that one relates better to a person who appears to belong to one's own group.
Baucus will be the first non-Chinese-speaking ambassador to China in 13 years. The office was held by fluent speaker of Chinese language from 1981 till 1995 and again from 2001 until 2011.
Although the ability to speak a language cannot be the only factor to determine one's knack to perform the duty, but the US has always been cautious in its dealings with China. The nomination comes at a time when relations between the two countries are straining due to disputes in the East China Sea and South China Sea.
A US guided missile cruiser, USS Cowpens and a Chinese warship, the Liaoning narrowly avoided a collision last week in one of the most significant US-China maritime incident since 2009. Earlier this year, tensions between the two countries had intensified when both started blaming each other for a spate of cyber attacks that were damaging computers in both countries.