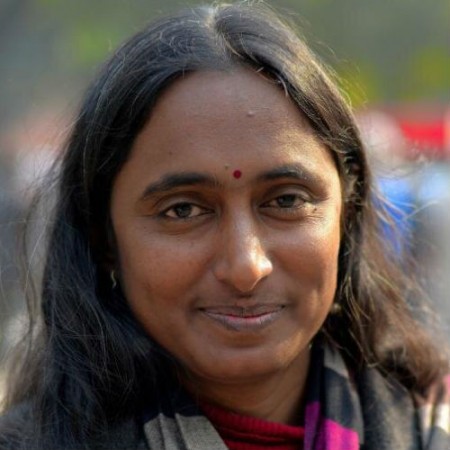 Soon after Prime Minister Narendra Modi urged the people to post selfies with their daughters on Twitter, All India Progressive Women's Association (AIPWA) secretary and CPI-ML member Kavita Krishnan sparked a controversy on social media by accusing the PM of 'stalking' daughters.
While addressing citizens on his monthly radio programme Mann ki Baat on Sunday, Modi had asked the people to share selfies with their daughters to initiate a campaign to save the girl child in India, where the sex ratio has been declining with every passing year.
Responding to Modi's online initiative, Krishnan tweeted the same night, asking people to watch out before posting selfies with daughters as Modi 'has a record of stalking daughters'.
Careful before sharing #SelfieWithDaughter with #LameDuckPM. He has a record of stalking daughters.

— Kavita Krishnan (@kavita_krishnan) June 28, 2015
This was enough to provoke Modi bhakts, who could not take the apparent insult and lashed out at the feminist, who is also the editor of 'Liberation', the monthly publication of the Communist Party of India (Marxist-Leninist).
Naxals, Be careful with this @kavita_krishnan She has a record of selling your daughters in Sona Gachi for her pegs. pic.twitter.com/ob1GmJqdNj — Ramki (@RamkiXLRI) June 28, 2015
Intellectual ? Diseased, pervert, debauched, degenerate etc are adjective for @kavita_krishnan https://t.co/qbeK8gCUcs

— Ishkaran S. Bhandari (@Ish_Bhandari) June 28, 2015
@MehrTarar It's actually not about the selfie, but the clipping down of the foreign funding on her "NGOs" that's hurting @kavita_krishnan — MeghaSharma (@crazyabtsrk) June 29, 2015
@MehrTarar @kavita_krishnan @Neenzoo1 She is suffering from attention seeking syndrome and needs help.

— Sedhi baat no bakwas (@avidandiya) June 29, 2015
@RW_HITMAN @narendramodi @kavita_krishnan No need to.Everybody should see what a rotten hate monger she is. — Subash (@Subash_ER) June 29, 2015
Spineless Kavita Krishnan d So called fighter for women's rights, has really stooped too low to get attention. pic.twitter.com/7FWDHJJ5qd

— The Kernel (@thekernelspeaks) June 29, 2015
@kavita_krishnan #SelfieWithDaughter was a very good and welcoming move by the PM. India doesn't need you, you communist. gtfo — Nitish Mankani (@NitishMankani) June 29, 2015
@DesBachao @Sonal3vedi @RahulGandhy1 @renu_18 @kavita_krishnan Such women shoul publicly apologize to our PM What type of women r these .

— Prabal Bhattacharya (@mashimoni) June 29, 2015
@kavita_krishnan There are few things one should keep politics away. #SelfieWithDaughter is good initiative not started by stalkers. — Mayank Kumar Jaiswal (@mayank107) June 29, 2015
Even as Modi bhakts continued their sharp attacks on Krishnan, his opponents pointed out towards 'snoopgate', a referrence to the Gujarat police putting a woman under surveillance on the instructions of the state's then home minister Amit Shah, allegedly at the behest of 'Saheb' Narendra Modi, who was the chief minister of Gujarat at that time.
The Gujarat High Court had last year scrapped a panel set up to investigate the involvement of Shah, Modi and several police officers accused in the case.
Even before the HC's judgement, the woman had approached the Supreme Court seeking cancellation of investigation into the case as she had herself sought for the surveillance for her safety.
Here are a couple of tweets with the hashtag #SahebGate on 'snoopgate':
Why to forget #SahebGate ? She's bold! https://t.co/P1G5AcO1xT

— Ruwa Shah (@ruwashah15) June 29, 2015
True that, who can forget #SahebGate... https://t.co/LYKpiCsPGM — K (@rehack20) June 29, 2015