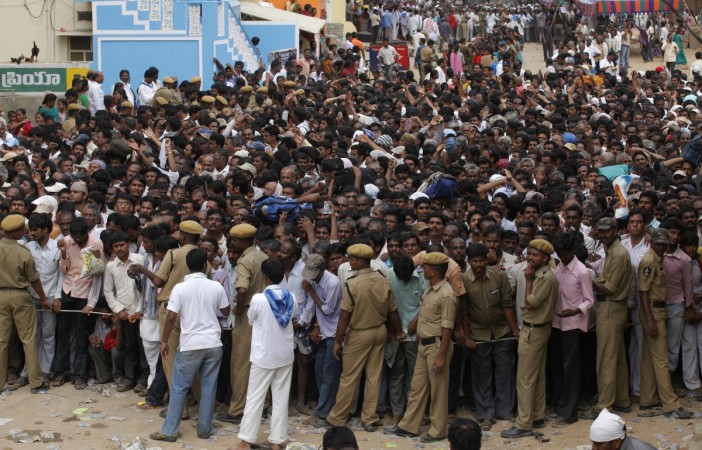 LIVE: Operation to Arrest Sant Rampal Continues; 6 Die in Ashram Clash
LIVE: Police Clash with 'Godman' Rampal's Supporters, to Continue Operation Until His Arrest
Sant Rampal Escapes Arrest Again; Taken to Undisclosed Location
The centre has sent thousands of security personnel to avoid any untoward incident as the disciples of self-styled godman Sant Rampal has gathered around his ashram complex in Haryana's Hisar district to prevent his arrest –for contempt of court – on Sunday.
Along with 10,000 personnel of the Haryana Police, 15 battalions of the Central Reserve Police Force (CRPF), and five companies of the Rapid Action Force have been deployed around his Satlok Ashram complex in Hisar's Barwala town.
"We have made adequate arrangements to take him into custody and produce him in court. We cannot share operational details," IANS quoted Hisar Superintendent of Police Satender Kumar Gupta as saying to the reporters.
Apart from deploying forces surrounding his complex, police have also sealed the Hisar-Chandigarh highway near Barwala town and cordoned off all areas around 500 metres from the complex. Fire brigade vehicles, riot-control vehicles, bullet-proof vehicles and ambulances have also been stationed across the area, according to the report.
As Rampal's disciples, including women and children, have camped outside his Ashram for over a fortnight to prevent the police from taking him into custody, the Centre had to intervene and send thousands of security forces to ensure that law and order is maintained in the town when Rampal is arrested.
Rampal is facing charges of murder, inciting mobs and contempt of court and has to appear before the Punjab and Haryana High court on Monday at 10 am. Non-bailable warrants were issued against Rampal on 5 November, however he was not arrested.
The state government has finally gone all out in its efforts to arrest Rampal on Sunday, for which the local administration has cut power and water supply to his ashram complex, forcing him to surrender.