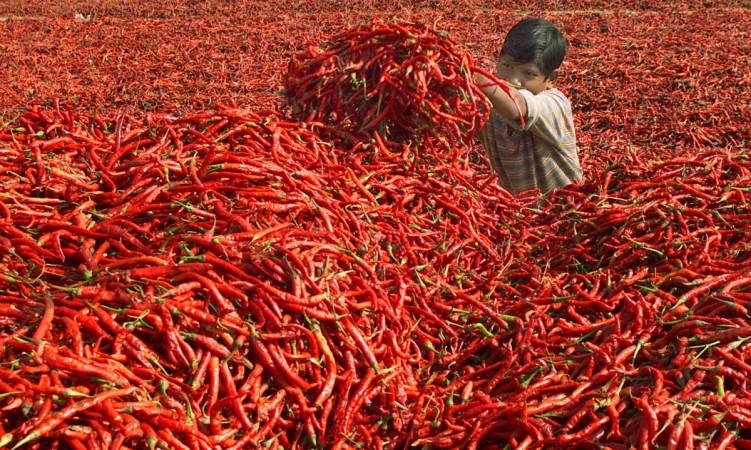 An 86-year-old self-styled godman bathed in water mixed with 30kg red chilli powder for half an hour in the morning, claiming to ward off the sufferings of others in Vellore.
Alukku (Dirt) Samiyar, as the name is reported, sat inside a 25 litre cooking vessel at 10:15am in a narrow street of Vavusi Nagar in Sathuvachari, according to The New Indian Express. The news of the godman performing such ablution gathered a huge crowd in that area.
Around 100 people from Satuvachari and Gudiyattam (municipality of Vellore district) took part in the ritual by pouring the water mixed with chilli powder over the man. The devotees poured the water one-by-one, taking half-an-hour to finish the bath, The New Indian Express reported.
According to Pandian, a realtor, who arranged the special pooja, there were 10 people who arranged the chilli powder and mixed it with water, after which they poured it over him in small buckets.
"He did not show any sign of discomfort. We recorded the entire happening," he said.
The man claimed that he performed this ritual in a bid to ward off the hardships and sufferings of people as holiness is vested in him, NIE reported.
"I observe the torment and miseries of the persons who pour the chilli-powder water over me. With the holiness vested in me, I will relieve them from all their sufferings," he said.
"It (chilli powder water) will not harm me."
The godman is born and brought up at an ashram in Vadakara, Kerala. He said that it was not the first time he performed such ritual, that a couple of years ago he did the similar thing in Kadapa, Andhra Pradesh.
According to NIE, some of the residents in that place where the special pooja took place said that a few people try to make wealth in the name of faith.
The police also took care of the situation when the unusual ritual was going to take place; they warned the organisers that action would be taken if anything happened to the godman.
He was in Red Hills and Tiruvallur before he came to Vellore four months back.
"We want to set up an ashram in Sathuvachari hills during his stay here. He does not ask for anything from persons seeking his blessing, but accepts whatever they offer," said Pandian.