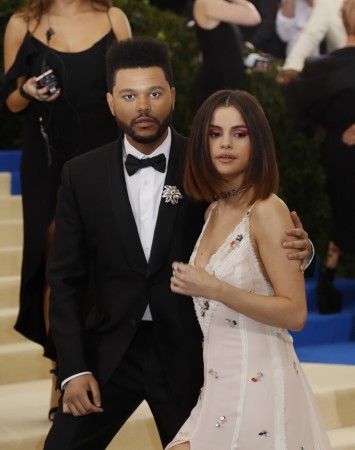 It looks like Selena Gomez is hinting something from her days in the dark. The singer has not only actively involved herself in the suicidal show Netflix's 13 Reasons Why, it looks like she is exploring the thought of suicidal tendencies and depression a little deeper with her new song.
Teasing fans for a week now about her upcoming song Bad Liar, the It Ain't Me singer has been posting cryptic messages written on a mirror. Using a blood red lipstick, the singer has been posting what looks like the lyrics of the song. But it is her recent controversial post with regard to the song that has stunned the internet.
Also Read: THIS photo explains why Selena Gomez chose The Weeknd as her life partner
The singer posted a picture on her Instagram account where she is seen lying naked on the bed. Looking devastated, Gomez is seen wrapped in band around her wrist as she looks into the camera. One band reads risk, hinting that she is suicidal. What!
The picture not only sends shivers down your spine, the images are hinting a traumatic song in making. While the pictures send an image of suffering through the minds of viewers, the audio tease tells a different tale.
Sharing a sneak-peek, the song appears to be a peppy and reeks of a hit making number. So what is happening? While we'll have to wait and watch what's in store for us, it does look like Gomez is opening about her "hardest" year, 2016.
For those of you who don't remember, here's a quick flashback. During the second half of 2016, the Good for You singer went "missing" when she suddenly disappeared from the social media and was not seen in public for a long time. Many tabloids suggested that she had hit the rehab and was tackling depression.
She did return in November apologising to fans about her disappearance and confessing what a hard year she was going through. Taking to Instagram and at the American Music Awards, the singer shortly revealed what had happened.
Talking at the AMA 2016, she said, "I think it's safe to say most of you know my life whether I liked it or not. And I had to stop. Because I had everything — and I was absolutely broken inside. I kept it all together enough to where I would never let you down, but I kept it too much together to where I let myself down."
She went on to share, "If you are broken, you do not have to stay broken. And if that's anything, whether you respect me or not, that's one thing you should know about me is, I care about people."
So will this song be a glimpse of what she went through? We'll have to wait and watch.