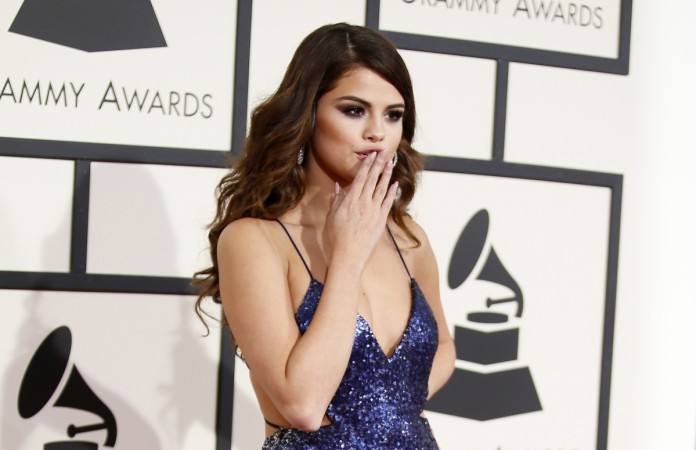 Selena Gomez suffered fashion mishaps several times in one day. The "Hands to Myself" singer experienced shocking wardrobe malfunctions when she accidentally ended up flashing her underwear twice and bra-less cleavage once the day she arrived in Paris for the Fashion Week.
Gomez undoubtedly has a sexy body and those perfect curves that she loves to flaunt makes her more appealing. But March 8, when the "Same Old Love" songstress made an appearance at the Paris Fashion Week, she ended up showing up a little more than she should have and the photographers captured something more than they had bargained for.
Gomez was at her fashionable best Tuesday, when she donned three amazing outfits, each sexier than the other. And, it was all working in her favour until she ended up accidentally flashing her panties — not once but twice during the day, and her fashion misfortune didn't just end with this. The worst thing to happen was when her decolletage was largely revealed, reported Hollywood Life.
Out of her three outfits, the second and the third were the ones that made things worse for the singer. Her second outfit was a high-waisted denim mini skirt with a bodysuit tucked in. While onlookers thought that her bodysuit with a plunging neckline was the most revealing part in her dress, but when she hopped out of the car, her mini skirt completely rode up revealing her black underwear.
Later that night, the "Good For You" crooner donned a glamorous black floor-length blazer dress. The dress featured a low-cut neckline and just three buttons to hold it up. When she stepped out of her SUV, a gust of wind revealed her bra-less cleavage, and even before Gomez could set this insane wardrobe malfunction right, her pair of nude underwear were left completely exposed.
Now, things couldn't have got more unfortunate than this for Gomez, who had it all planned to pull off a flawless evening, looking drop-dead gorgeous.