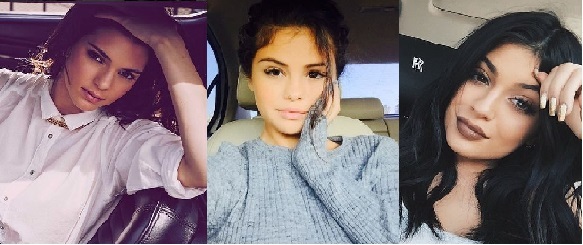 Selena Gomez seems to be in a mood to forgive and forget. Or is it her new game plan? Latest reports suggest that Selena and Kylie Jenner have made up and that the 'Star Dance' singer is ready to reconcile with Kendall too.
The reason behind this change of heart is rather interesting. According to Hollywood Life, the 'Heart Wants What It Wants' singer has admitted of having major self-confidence issues and that is the reason she wants to forgive, forget and bury the feud with the Jenner sisters.
Selena was heartbroken when she found out that Kendall hooked up with Justin Bieber behind her back. Their relationship went sour and they have been at war over Bieber since then.
"Hollywood is exactly like high school — there are all these different little cliques and Kendall and Kylie are Queen Bees. Selena wants to be a part of their group. She knows she's going to see them wherever she goes, and it's just easier for her to be friends with them than have the awkward drama. She's ready to make up with Kendall," a source said.
On the other hand, the 'Bad Blood' star has another secret motive behind getting back to Kylie and it is very "expected". As you may have guessed, Justin Bieber is apparently the reason Selena has been cozying up again to the 'Keeping Up With the Kardashians' star.
Isn't it amazing that after all the drama that went down between Selena and Kylie regarding Justin, the two girls have patched up? The two started talking again on 16 May, when Kylie posted a picture of Selena and her on Instagram.
It was also reported that it was Kris Jenner who helped the girl to get back together as friends.
You must be thinking it is great that they have made up, but according to the website, the 'Come and Get It' singer is using this reconnection to know Justin's secrets.
"She's using Kylie to find out what's going on with Justin. Being friends with his friends is the best way to stay in the loop with him," an insider told.
"Selena still cares about what her ex is doing, and wants to know how he is and if he talks about her," the insider added.
Is it really possible that Selena Gomez could be using her friendship with Kylie and Kendall Jenner to know secrets of her ex-boyfriend Justin Bieber?