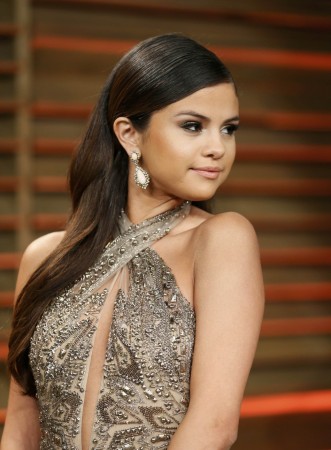 Selena Gomez, who has always looked younger than she actually is, apparently shocked her fans with her "too young" look in V Magazine's racy cover shoot for the upcoming issue.
The "Heart Wants What it Wants" singer also opened up about her on-and-off relationship with "Baby" crooner Justin Bieber. The interview was conducted by her "Spring Breakers" co-star James Franco.
The 22-year-old former Disney star's photographs, where she is seen wearing a hair clip with a red bow on it coupled with her "doe-eyed look", has been condemned by many social media users. Some have described the pop star as looking like "Lolita" – the minor girl who is seduced by a middle-aged man in Vladimir Nabokov's book of the same name.
Some tweets by Twitter users are as follows:
Even though her fans did not quite like her experiment, Gomez seemed content with her photographs as she posted several of them on her Instagram page. See some of the pictures below:
"I was 18 years old, and it was my first love. The older I get, I'm guarding certain things more. After being put through the scrutiny, I understand what it is," Gomez, 22, explains to the Interview star. "When you're young and you're being told so many different things...it almost felt like all we had was each other, like the world was against us, in a way. It was really weird but it was incredible. I would never take it back in a million years. You live and you learn, you know?"
The singer is rumoured to be dating DJ Zedd and says that this year will be "incredible". "I'm super stoked that I've got some bumps on me, some scars, some bruises. I actually really love that. And I don't mean that in a morbid way," she told the magazine.