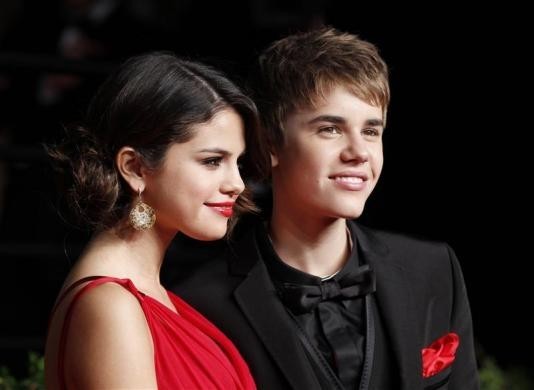 Fans of on-again off-again couple Selena Gomez and Justin Bieber were shocked on Wednesday when a report suggested that Gomez might be pregnant with Bieber's twins.
The news report was accompanied by a sonogram copy with the patient name "Gomez, S," sparking speculations that Jelena, as Gomez and Bieber are popularly known, might be in for a surprise as the picture showed two foetuses.
However, the sonogram and the news were soon proved to be fake as the report came from eBuzzd, a site known for creating hoaxes.
The report goes on to say that Gomez found out about being pregnant after undergoing a series of tests to determine why she was experiencing headaches and dizziness. Gomez was attending a music festival in Austin, Texas, when she started feeling uncomfortable.
Gomez is said to be expecting the baby sometime in mid-October, and eBuzzd allegedly got hold of a series of messages exchanged between Gomez and Bieber indicating that they are happy with the pregnancy news.
"I'm the happiest girl in the world!" Gomez is believed to have said in the message, and their conversation is believed to have ended with, "You better be good with kids because I'll be hitting you up girl :)"
Although the pregnancy news is untrue, Gomez's fans aren't happy with the possibility of the former Disney star starting a family with Bieber. A good number of them took to their social networking sites such as Twitter to voice out their displeasure at Gomez's alleged pregnancy.
If bieber really got Selena Gomez pregnant I will be so pissed and hate Selena Gomez for being stupid. Hope it's not true.

— Brandon Harris (@_HarrisBrand) March 17, 2014
selena gomez is pregnant with justin bieber's twins, yea and barack obama is my father. — melissa (@bieberslust) March 16, 2014
Selena Gomez: Don't Even Think Of Having A Baby With Justin Bieber http://t.co/7Da1aPJlmq

— (@kibeariego) March 20, 2014
"@yayaaasinaaai: My mom just caled me and told me selena gomez is pregnant." NO NO NO NO ! — not broken (@Biadreamer_) March 19, 2014
Gomez, who recently shared on Instagram a photograph of her playing with nine-month-old baby sister Gracie, has not addressed the rumors on Twitter. Bieber, too, has remained silent.